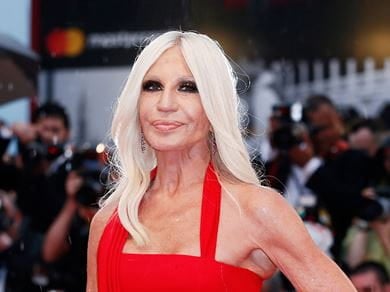 Andrea Raffin / Shutterstock.com
Faith:

Catholic

Career:

Public Figure

Birthday:

May 02, 1955

Fun Fact:

Donatella says religion has always been part of her life.
Donatella Versace, sometimes simply referred to as Donatella, is a fashion designer, socialite, and model. She's the sister of Gianni Versace, founder of the fashion company Versace, with whom she worked closely on the brand's development, particularly its combination of Italian luxury with celebrity and pop culture. When Gianni died in 1997, she inherited a portion of the Versace brand and became the creative director. She's currently the brand's chief creative officer. With her brother Gianni, she's widely created for the supermodel phenomenon of the 1990s by casting editorial models on the runway.
Donatella Versace was born in Italy, the youngest of four children: Santo, Gianni, and Tina. Her father, Antonio, helped run the family coal mining business, while her mother, Francesca, was a seamstress for a fashion company before setting up her fashion boutique. Her older sister, Tina, died when she was 12 from an improperly treated tetanus infection. Donatella and Gianni were incredibly close and persuaded her to dye her hair blonde when she was 11 in honor of Italian singer Patty Provo, Gianni's favorite singer.
In the mid-1970s, she studied languages and literature in Florence. On the weekends, she would travel to Milan to work with Gianni, who worked at the Callaghan fashion label. Her mother disapproved and wanted her to focus on her studies. Her mother would check up on Donatella with surprise visits to Florence. Donatella was only ever interested in a career in the fashion industry, saying, "I knew I was going to work in fashion. I really didn't think of anything else." In 1976, she and Santo joined Gianni in Milan. In 1977, the trio traveled to the United States on a three-week tour in search of press and overseas buyers in anticipation of starting the Versace brand.
Is Donatella Versace religious?
Donatella identifies with the Catholic faith. Regarding her religion, Versace once said, "To be Catholic puts a lot of fear in you. It's a great religion, but also one that can limit your experience. You fear experience because everything is a sin." In a separate interview, she shared how religion has always been part of her life, saying, "Being Italian, religion has always been part of my life. Both Gianni and I have used religious symbols in our creations. Back then, that was something quite shocking because religion, you know, it was something you did not touch. But after Gianni did it, slowly, it became part of the culture in a different way."
Back to the Celebrity Faith Database