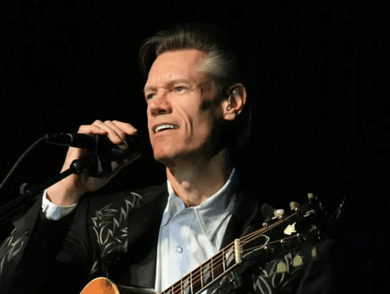 Tennessee Wanderer / Flickr
Faith:

Christian

Career:

Musician

Birthday:

May 04, 1959

Fun Fact:

Travis sang in his Church of Christ choir at eight years old.
Randy Travis is an American gospel and country singer, guitarist, and songwriter. Travis has recorded 20 studio albums and charted over 50 singles on the Billboard Hot Country Songs charts, including 16 that reached the number one position. He was active from 1978 until being incapacitated by a stroke in 2013. Considered a fundamental figure in country music history, Travis broke through in the mid-80s with the release of his album "Storms of Life," which sold over four million copies.
The album established Travis as a significant force in the neotraditional country movement. He followed up his successful debut with multiple platinum and multi-platinum albums. He's known for his distinctive baritone vocals and delivers a traditional style, making him a country music star. By the mid-1990s, Travis saw a decline in chart success. In 1997, he left Warner Bros. Records for DreamWorks Records and then Word Records, where he recorded more Christian material.
Though the career shift produced only one number-one country hit, "Three Wooden Crosses," Travis earned several Dove Awards, including Country Album of the Year five times. Since his stroke severely limited his speaking and singing ability, he's released archival recordings and made limited public appearances. In addition to his singing career, Travis pursued an acting career, appearing in numerous television series and films, including "The Rainmaker," "Black Dog," and "National Treasure 2." He also appeared in seven episodes of the "Touched by an Angel" TV show and two episodes of the crime-solving TV show "Matlock."
Travis has sold over 25 million records throughout his career and has won seven Grammys, six CMA Awards, 10 AMA Awards, 11 ACM Awards, and eight GMA Dove Awards. He has a star on the Hollywood Walk of Fame and was inducted into the Country Music Hall of Fame in 2016.
Is Randy Travis religious?
Randy Travis identifies as a Christian. In an interview with Fox News, Randy's wife, Mary, helped explain how faith has helped the couple through their struggles. She said, "He's very faithful. We, you know, we leaned hard on God. It's been 10 years now since the stroke, and that's hard to believe. There's really no words for it, and there's not a day that goes by that I just don't thank God for His grace and His mercy."
In a separate interview with Rolling Stone, she said, There's no way we could have gotten through what we got through without our faith. We were in the hospital for almost six months. There were times when Randy was in a coma. I know he was talking to God, and God was talking to him. I know they had conversations. I know that in the hospital, every single night, I had conversations with God."
Back to the Celebrity Faith Database