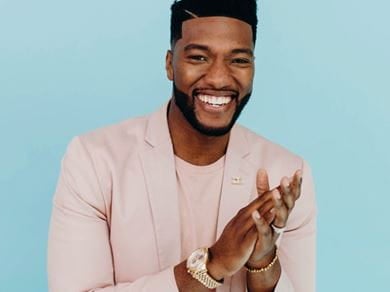 Transformation Church
Faith:

Christian

Career:

Author

Birthday:

November 16, 1986

Accomplishments:

Pastor, New York Times Best-Seller

Fun Fact:

One of his most popular works is his original book "Relationship Goals; How to Win at Dating, Marriage, and Sex."
Michael Todd is a pastor, N.Y. Times best-selling Christian author, and famous Christian influencer. The renowned pastor is from Tulsa, OK. He is the head pastor of the Transformation Church in Tulsa, where he leads services alongside his wife, Pastor Natalie Todd. In 2015, Transformation Church was started under the guidance of Bishop Gary McIntosh, who turned over the honor to the married couple after 15 years of loyal servitude to the church and God.
Since Michael Todd grew up in the church, it only fitted that he be the right fit for succession as head pastor. Todd's mission is to spread God's Word to every part of the world and transform lives through Jesus Christ. Their church aims to be diverse, progressive, and radical for Jesus.
Todd is known for his passionate messages about popular topics for young adults that strays from the traditional church sermons. His ability to incorporate modern methods of conveying God's Word and the latest social media tools to share the gospel is revolutionary for the Christian influencer realm. One of his most popular works is his original book "Relationship Goals; How to Win at Dating, Marriage, and Sex." His best-selling book was a major trending topic amongst youth and young adults trying to navigate the dating world as Christians.
Pastor Todd's messages have been coined "the gospel of the New Generation" since most of his audience is the young adult generation. He preaches about topics relevant to the lives of millennials and Generation Z while staying true to God's Word. His language and style of communication make Todd stand out among other pastors and resonates with the audience.
Over the recent years, the church's population has significantly increased. Due to the peaked interest of new attendees, Pastor Todd added a service to his schedule to suffice the overflow. His sermons are also often broadcasted on the Christian TV network TBN.
Pastor Michael's sermons can be located online with many links on the church's website and through their various social media channels. Transformation Church also shares weekly updates of the church on their YouTube Channel, where they post its messages.
Back to the Celebrity Faith Database