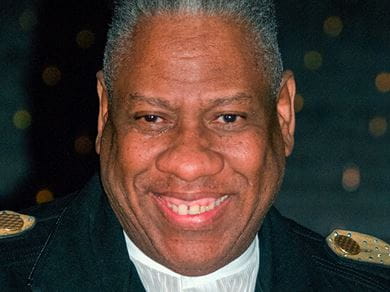 David Shankbone / Wikimedia.org
Faith:

Christian

Career:

Fashion Journalist

Birthday:

October 16, 1948

Date of Death:

January 18, 2022

Accomplishments:

Vogue Magazine

Fun Fact:

When asked how he deals with adversity because of race, Talley responded, "When people have done racist things, my faith and my Christianity says to me: It is wrong, yet they can be forgiven. They have wronged me, it is wrong what they have done, but they can be forgiven."
André Leon Talley was an American fashion journalist and creative director. He was most known as "Vogue" magazine's editor-at-large.
Talley was born and raised primarily by his grandmother in Durham, North Carolina. Talley credits her to inspiring his unique fashion taste. He would consistently read "Vogue" issues in the library during his teenage years. He attended North Carolina Central University to pursue his studies in French literature. After earning his master's degree in French studies at Brown University, Talley began working as an assistant for Andy Warhol. In 1983, the aspiring fashion journalist made his dream job as the editor-at-large for "Vogue" magazine. Soon after, he became the most famous African American man in the designer fashion industry.
The creative director was a pioneer in the fashion industry from the numerous trends he set. Talley always stood out amongst the crowd, famous for his eclectic one-of-a-kind outfits that emphasized his six-foot, six-inch height. The fashion mogul has received many recognitions and awards for his work in the industry. He was awarded the Eugenia Sheppard Award for Fashion Journalism in 2003. In 2008, he was presented with an Honorary Doctorate for Humanities from Savannah College of Art and Design.
Talley was also a devout Christian who often spoke of his strong faith. When asked in a press interview how he dealt with adversity in life because of race, Talley responded, "When people have done racist things, my faith and my Christianity says to me: It is wrong, yet they can be forgiven. They have wronged me, it is wrong what they have done, but they can be forgiven."
When asked in an interview with "W Magazine" if he attends virtual church services during the pandemic, the fashion icon responded: "Oh, yes! Abyssinian Baptist Church, we have a live stream every Sunday. We have weekly Bible studies online. For the live stream, I sit at my computer, in my beautiful chair at my desk in my bedroom next to two windows, and I watch the sermon livestream. I take from those weekly services something strong to carry me to the next Sunday. We always live-streamed before the pandemic, but I always loved going to church." He reminisced. "I love the ritual of getting up, mentally preparing oneself for church, preparing oneself to greet the congregates, the communication between other worshippers, and to embed myself within a deep, deep service, which gives me strength to go on. It's part of who I am; it's part of who I became from my childhood."
Back to the Celebrity Faith Database