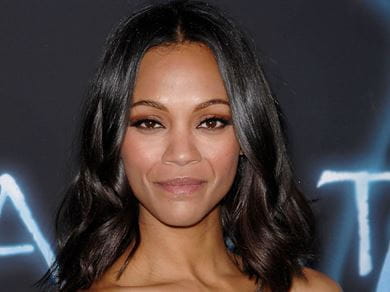 Everett Collection / Shutterstock.com
Faith:

Catholic

Career:

Actress

Birthday:

June 19, 1978

Fun Fact:

Saldana is the overall second-highest-grossing actress.
Zoe Saldana is an actress best known for her roles in science fiction film franchises. She's starred in four of the highest-grossing movies of all time, "Avatar," "Avatar: The Way of Water," "Avengers: Infinity War," and "Avengers" Endgame," a feat not achieved by any other actor. Movies she's appeared in have grossed over $14 billion worldwide, and as of 2023, she's the second highest-grossing film actress and the fourth actor overall. TIME Magazine named her one of the 100 most influential people in the world in 2023.
Saldana is a trained dancer, but she started acting in two 1999 episodes of "Law & Order." Her first movie role was in "Center Stage," in which she played a ballet dancer. She received early critical acclaim for her work opposite Britney Spears in the movie "Crossroads." Starting in 2009, Saldana achieved a career breakthrough with her roles as Nyota Uhura in the "Star Trek" movie series and as Neytiri in James Cameron's "Avatar" film series.
She played Gamora in the Marvel Cinematic Universe, from "Guardians of the Galaxy" to "Guardians of the Galaxy Vol. 3." In addition to her franchise work, she's starred in the film "The Adam Project" and the Netflix miniseries "From Scratch." In 2023, Saldana started playing the lead role of a CIA officer in the Paramount+ series "Special Ops: Lioness." She was born in Passaic, New Jersey to Aridio and Asalia Saldana. Her mother lived with her family in the Dominican Republic as a child, but they migrated to New York to escape political unrest.
Saldana and her two sisters, Mariel and Cisely, were raised bilingual in English and Spanish, with Spanish being their primary language at home. In an interview with Wired, Saldana described herself as Puerto Rican and Dominican. Her father died in a car accident when Saldana was nine, so her mother sent her and her sisters to the Dominican Republic to be raised by their father's family. Their mother stayed in New York to afford private school for the girls. Eventually, their mother remarried Dagoberto Galan, who became the girls' stepfather, who they consider fully their father.
Is Zoe Saldana religious?
Saldana doesn't openly discuss her religion, but she appears to be Catholic. She was born to a Dominican father and a Puerto Rican mother who raised her Catholic. She sometimes wears a cross around her neck, suggesting she is still religious.
Back to the Celebrity Faith Database