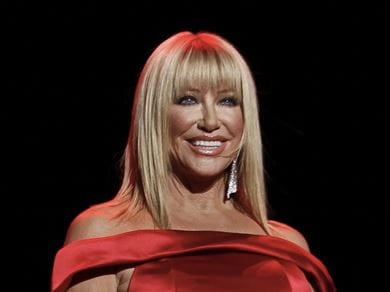 lev radin / Shutterstock.com
Faith:

Christian

Career:

Actress

Birthday:

October 16, 1946

Date of Death:

October 15, 2023
Suzanne Somers was an actress best known for playing Chrissy Snow on the television show "Three's Company." She also went on to became an entrepreneur and New York Times best-selling author.
Suzanne Somers, born Suzanne Marie Mahoney, came into the world on October 16, 1946, in the small town of San Bruno, California. Growing up, she was the third of four children in a working-class family. Her parents, Frank and Marion Mahoney, instilled in her a strong work ethic and determination from a young age.
From the beginning, Somers had an innate passion for performance and entertainment. As a child, she would put on plays and skits for her family, showcasing her natural talent and flair for the dramatic. Her love for acting and storytelling only grew stronger as she got older.
Although Somers dreamt of a career in entertainment, she faced several challenges on her journey to success. In her teenage years, her parents divorced, causing financial strain and instability in her life. Despite these obstacles, Somers remained determined and resilient, working odd jobs and saving money to pursue her dreams.
Her hard work paid off when she was accepted into the American Academy of Dramatic Arts in New York City. This opportunity allowed her to hone her craft and lay the foundation for her future success.
Suzanne Somers' career has been nothing short of remarkable, with numerous highlights that showcase her versatility and talent. One of her most iconic roles was as Chrissy Snow in the hit television sitcom "Three's Company" from 1977 to 1981. Her portrayal of the bubbly and endearing character won over audiences and catapulted her to stardom. This role not only solidified her as a comedic actress but also allowed her to showcase her comedic timing and natural charm.
Somers' success on "Three's Company" led to numerous other opportunities in the entertainment industry. She went on to star in her own television series, "She's the Sheriff", where she played the lead role of Sheriff Hildy Granger. This role allowed her to showcase her range as an actress, balancing both comedy and drama in her performance.
In addition to her television success, Somers has also made a name for herself as a best-selling author. Her books, such as "Keeping Secrets" and "The Sexy Years", have been highly praised for their candid and informative approach to health and wellness. Somers has used her platform to advocate for alternative medicine and holistic healing, making her a pioneer in the field.
Throughout her life, Suzanne Somers has experienced various ups and downs in her personal relationships. In 1965, she married Bruce Somers, an aspiring actor, and they had a son named Bruce Jr. However, their marriage ended in divorce in 1968. Somers later found love again with her second husband, Alan Hamel, whom she married in 1977. Their relationship has endured for over four decades, a remarkable achievement in the entertainment industry. Together, they had two children, a son named Stephen and a daughter named Leslie.
Suzanne Somers' life took a devastating turn in 2000 when she was diagnosed with breast cancer. This battle with cancer would prove to be one of the most challenging and life-altering experiences she would ever face. Instead of relying solely on conventional medical treatments, Somers took a holistic approach to her healing journey. She sought out alternative therapies and embraced a combination of natural treatments, including herbal supplements, bioidentical hormone replacement therapy, and dietary changes. Her decision to explore alternative medicine was met with skepticism from some in the medical community, but Somers stood by her choices, firmly believing in the power of these treatments to support her healing process.
Throughout her battle with cancer, Somers became an advocate for holistic healing and an outspoken critic of the conventional medical system. In July 2023, Somers announced that her cancer had returned. She passed away in October 15, 2023, one day before her 77th birthday. Her family released a statement after her death, saying, "Her family was gathered to celebrate her 77th birthday on October 16th. Instead, they will celebrate her extraordinary life, and want to thank her millions of fans and followers who loved her dearly."
Suzanne Somers' Religious Beliefs
Suzanne grew up in a Christian household, with her parents instilling in her a strong sense of spirituality and moral values. Somers spoke over the years about how her faith has been a guiding force in her life, providing her with strength and hope during difficult times. In particular, Somers credited her faith as a source of comfort and support during her battle with cancer. She often turned to prayer as a way to cope with the challenges of her diagnosis and treatment. In her interview with Women World, she mentioned that she had a deep relationship with god and prayed daily. She further noted that she often received strong messages from him in return.
Back to the Celebrity Faith Database