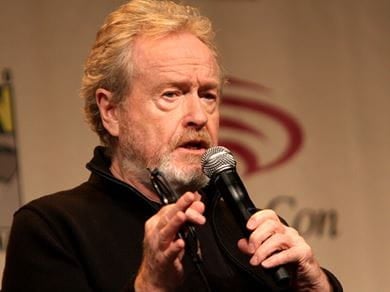 Ridley Scott credit Gage Skidmore flickr
Faith:

Atheist

Career:

Director

Birthday:

November 30, 1937

Accomplishments:

The Academy Awards, The Emmy's, the Golden Globes

Fun Fact:

When Scott was awarded an honorary doctorate from the Royal College of Art, he spoke about how he still keeps his school report ranking him at the bottom of the class in his office.
Ridley Scott has become known for his sci-fi works and strong female characters. His first feature film was "The Dualists." It won the Best Debut Film award at the Cannes Film Festival. Scott's second film was arguably one of his best known and most successful, the 1979 film "Alien." His road trip film, "Thelma & Louise" was one of his biggest critical successes, but he is better known for his films made on a grander scale including "Gladiator" and "The Martian."
Scott has two sons through his marriage to Felicity Heywood and a daughter through his marriage to Sandy Watson. His current partner is Giannina Facio who has appeared in almost all of his films. In addition to including Facio in many of his works, Scott has dedicated a number of his films to members of his family who have died.
Back to the Celebrity Faith Database