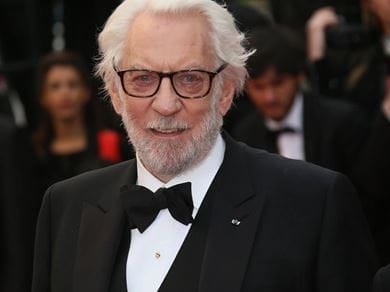 Denis Makarenko / Shutterstock.com
Faith:

Atheist

Career:

Actor

Birthday:

July 17, 1935

Fun Fact:

Sutherland doesn't believe heaven exists.
Donald Sutherland is an actor with a career that spans 60 years. He's been nominated for several awards, including nine Golden Globes, winning two. Sutherland's career started after starring in films like "The Dirty Dozen," "M*A*S*H," "Kelly's Heroes," and "Don't Look Now." Sutherland has also starred in other films like "A Time to Kill," "Space Cowboys," "Pride and Prejudice," and "The Hunger Games" franchise.
Is Donald Sutherland religious?
Donald Sutherland identifies as an atheist. While appearing on "Inside the Actor's Studio," the interviewer asked Sutherland what he would want to hear God say at the pearly gates if heaven existed. Sutherland responded, "Oh, you know something? I'm so far away from believing that it exists, and the only thing I know are jokes about it."
Back to the Celebrity Faith Database