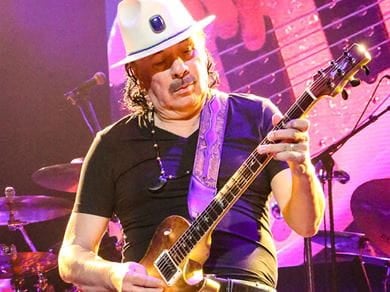 Attribution - Myzz Frantastic / Shutterstock.com
Faith:

Christian

Career:

Musician

Birthday:

July 20, 1974

Fun Faith Fact!:

Carlos Santana identified as a hippie during the 60's.
Born in Jalisco, Mexico, Carlos Santana was raised in a Catholic household. He was exposed at an early age to music, as his father played in a local mariachi band and his brother later became a professional guitarist. Santana became a US citizen in 1965. His music career took off in the late 60's and his band, Santana, is one of the most beloved fusion jazz rock bands of all time.
Is Carlos Santana religious?
Carlos Santana in his adult years experienced a pivot in his traditional Catholic upbringing. His music opened him up to explore Eastern spirituality for a few years. He said, "I have crystallized all my religion into no religion—into spirituality. Religion is finely designed to divide and separate; spirituality brings unity and forgiveness and compassion."
After years of pursuing an open spirituality instead of following a dogmatic religious structure, Carlos, in 2015, said he would take time away from music to preach Christianity in Hawaii. He said, "I find that God gave me the gift of communication even without my guitar and with the ability to get people unstuck with certain sections of the Bible having to do with guilt, shame, judgment and fear."
Carlos Santana credits God with saving him from suicidal thoughts and emotional trauma. He credits God for helping him forgive people who have wronged him in his life.
Sources:
Back to the Celebrity Faith Database