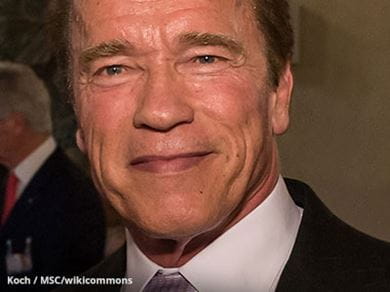 Faith:

Christian - Catholic

Career:

Actor

Birthday:

November 30, 1965

Accomplishments:

Golden Globe Winner

Fun Fact:

Schwarzenegger purchased the first Hummer manufactured for civilian use in 1992, which weighed 6,300 lbs.
Arnold Schwarzenegger an Austrian-born American actor, bodybuilder, and was the 38th governor of California. He began weight training at the age of 15 and won Mr. Universe at the age of 20. His acting career began in 1982 and one of his most well known hits was the science-fiction movie, The Terminator.

Schwarzenegger's childhood was difficult because of his abusive father who favored his brother. He turned to Reg Parker movies as an escape that sparked his interesting in Body Building and in America. He met Joe Weider who was a part of the International Federation of Body Building, which started his career of Body Building that eventually led to acting.

Because of his size and strength, Schwarzenegger was featured in many action films. He received a Golden Globe Award for Best Newcomer in Stay Hungry in 1976 and was the star character in all 3 Terminator films. In 2003, he became the governor of California and left office in 2011. He has since then written a memoir, titled, "Total Recall" that was published in 2012.
Back to the Celebrity Faith Database