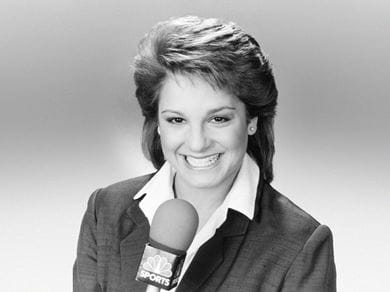 Everett Collection | Inset: YouTube
Faith:

Christian

Career:

Athlete

Birthday:

January 24, 1968

Accomplishments:

Olympian, Gold Medal Winner

Fun Fact:

Mary Lou Retton was the first American woman to win the all-around gold medal in Olympic gymnastics.
Mary Lou Retton is an Olympic legend best known for her iconic gymnastics performance at the 1984 Los Angeles Games. She won the all-around gold medal, becoming the first American woman to do so.
Mary Lou Retton was born on January 24, 1968, in Fairmont, West Virginia. She grew up in a close-knit family with four siblings. From a young age, Retton showed a natural talent for athletics, participating in various sports like softball and swimming. However, it was her love for gymnastics that truly set her on a path to greatness. Retton's parents, Ronnie and Lois, recognized her potential and supported her dreams wholeheartedly. They made many sacrifices to ensure she had the opportunity to train with the best coaches and compete at the highest level. Retton's family played a crucial role in shaping her character and nurturing her talent, laying the foundation for her future success.
Mary Lou Retton's gymnastics career was nothing short of extraordinary. From a young age, she dedicated herself to the sport, training tirelessly to perfect her skills. Retton's dedication paid off when she made her mark on the international stage. With her powerful flips and precise routines, she quickly gained recognition as one of the best gymnasts in the world. Her determination and passion for gymnastics led her to numerous victories, paving the way for her iconic performance at the 1984 Olympics.
Mary Lou Retton's Olympics triumphs solidified her status as a gymnastics legend. At the 1984 Los Angeles Games, she became the first American woman to win the all-around gold medal, captivating audiences with her flawless routines and infectious energy. Retton also won five medals in total, including four silver and one bronze, making her the most decorated American gymnast of the Games.
Mary Lou Retton went on to marry former University of Texas quarterback Shannon Kelley in 1990, and together they have four daughters: Shayla, McKenna, Skyla, and Emma. However, Retton and her husband divorced in February 2018.
Mary Lou Retton's Religous Beliefs
Mary Lou Retton's journey to greatness is not just defined by her athletic achievements, but also by her unwavering Christian faith. Throughout her life, Retton has been open about her belief in God and the role it has played in her successes and challenges.
Retton's Christian faith has been a constant source of strength and guidance in her life. She credits her faith for giving her the determination to overcome obstacles and the ability to stay grounded in the midst of fame and success. Retton has often spoken about how her faith has helped her navigate the ups and downs of her gymnastics career and how it continues to shape her life today.
In interviews, Retton has shared that her faith gives her a sense of purpose and meaning. She believes that God has a plan for her life and that she is called to use her talents to make a positive impact on the world. Retton's deep conviction in her faith has allowed her to approach her career and personal life with integrity, humility, and gratitude.
Retton's Christian beliefs have also influenced her parenting style and the way she raises her children. She strives to instill in them the same values of faith, compassion, and kindness that she holds dear. Retton and her husband, Shannon Kelley, prioritize faith in their family, attending church together and praying as a family.
In addition to her faith, Retton has also been an advocate for the power of prayer. She believes in the importance of seeking guidance from God and finding solace in prayer during times of struggle. Retton's faith has not only provided her with a strong foundation, but it has also been a source of inspiration and hope for countless others.
Back to the Celebrity Faith Database