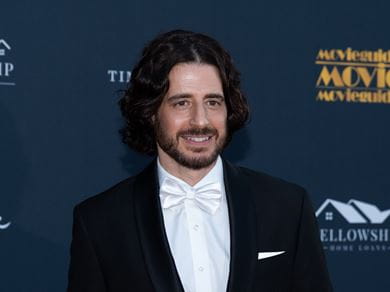 Movieguide® / Flickr
Faith:

Catholic

Career:

Actor

Birthday:

July 01, 1974

Fun Fact:

Roumie describes himself as a "born-again Catholic."
Jonathan Roumie is an actor best known for his role as Jesus on "The Chosen," a television series centered around the life and ministry of Jesus of Nazareth. Roumie has appeared in television shows like "As the World Turns," "Castle," and "The Good Wife." He played Christ for the first time in a touring multi-media project about the life of St. Faustine called "Faustina: Messenger of Divine Mercy" and subsequently in "Once we were Slaves/The Two Thieves." Roumie is also the co-director, co-producer and lead actor of "The Last Days: The Passion and Death of Jesus," a live performance about the passion of Christ.
In 2023, he played evangelist Lonnie Frisbee in the hit film "Jesus Revolution." Roumie is also a voice actor. His voice-over work includes the video games "The Darkness II," "Evolve," and "Mafia II & III." He's voiced several characters in the MTV series "Celebrity Deathmatch." He started as a production assistant and was the location scout for "National Treasure," "Spider-Man," and "I Am Legend." His first original song, "Outta Time," was released in Europe for the album "Unbreakable," which he co-produced.
At one time, Roumie was involved in an entertainment fellowship for Christian entertainment professionals. He also serves as a narrator for the Catholic prayer app, Hallow. He's been a ministry leader and served as a minister of Holy Communion within the Catholic Church. He strongly advocates the sacraments, charity, and ecumenism. Roumie serves on the board of Catholics in Media Associates. In 2020, he was nominated for a Papal knighthood, the Order of St. Gregory the Great. In 2022, Roumie made the Our Sunday Visitor's list of Catholics of the Year.
Right before Roumie was offered the opportunity to play the role of Jesus Christ on "The Chosen," he reached the point on his journey where he surrendered his life to God, he says; "I was literally in a pit, and God sort of lent a hand and brought me out of the pit. I was broke. I was in debt. I had enough food for the day to last a day."
Is Jonathan Roumie religious?
Roumie is a practicing Catholic. He was baptized in the Greek Orthodox Church but converted to Roman Catholicism after moving from New York to its suburbs. In an interview with a Catholic publication, Roumie said, "There was never really a point in my life where I felt I was disconnected from my faith: maybe a little lukewarm, a little casual at times, never disconnected. God's been too prevalent in my life for as long as I can remember."
Back to the Celebrity Faith Database