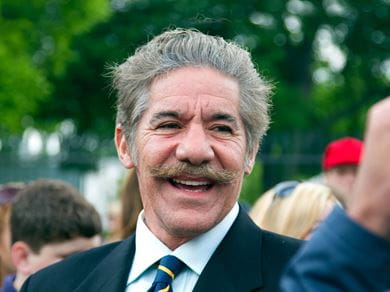 Mark Taylor / Wikimedia Commons
Faith:

Judaism

Career:

Public Figure

Birthday:

July 04, 1943

Fun Fact:

Geraldo has a Star of David tattoo on his left hand.
Geraldo Rivera is an author, journalist, and political commentator. He currently co-hosts "The Five" on Fox News but got his start in television on his talk show "Geraldo," which ran from 1987 to 1998. He rose to fame after the live television special "The Mystery of Al Capone's Vaults" in 1986.
Is Geraldo Rivera religious?
Geraldo Rivera grew up in New York City. His father was Catholic, but his mother was Jewish, so Rivera grew up "mostly Jewish," with a bar mitzvah ceremony. He also has a Star of David tattoo on his left hand. On the tattoo, Rivera said, "I got this in 1972 after the Maillot massacre when terrorists infiltrating from Lebanon slaughtered a bunch of kids at a kibbutz nursery school in Northern Israel. I got the tattoo because if the time ever came again when someone asked for the Jews, I wanted to be the tough guy who brandished this clenched fist and said, "Here's one."
Back to the Celebrity Faith Database