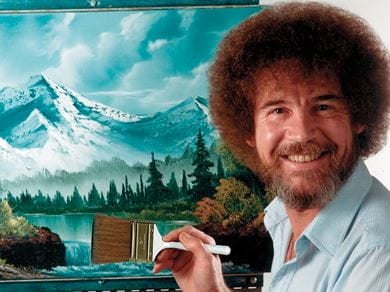 Fair Use
Faith:

Christian

Career:

Public Figure

Birthday:

October 29, 1942

Date of Death:

July 04, 1995

Accomplishments:

Artist, PBS, Painter, Air Force

Fun Fact:

Bob Ross occasionally ended "The Joys of Painting" episodes with a relaxing "God Bless" to the audience.
Robert Norman Ross was an American art instructor and painter known for hosting the PBS Television Show "The Joy of Painting" from 1983 to 1994. Ross' famous show consisted of painting tutorials guided by his supportive commentary and calm tone. He occasionally ended the episodes with a relaxing "God Bless" to the audience. Although he was not very overt about his faith, Ross was indeed a Christian.
Bob Ross was born and raised in Orlando, Fl. Although his known career was being a painter, his first job was enlisting in the Air Force when he was 18. The Florida native served twenty years in the Air Force, during which he received the rank of Master Sergeant. In "The Joys of Painting," it was mentioned that some of his landscape paintings were inspired by his time served in Alaska.
"The Joys of Painting" was loved by so many because the intended audience wasn't just professional painters or artists, but everyone. Ross' upbeat words, gentle spirit, and unique afro captured the interest of so many people. He often spoke to the audience with encouraging phrases about everyone having the ability to make art and creatively express themselves, even those that might not think they can. His optimism and motivation influenced many individuals to pick up a brush and start painting without fear of failure. His core belief was that mistakes are no such thing; there are only "happy accidents" that we can learn from. The TV host once painted a snowy landscape with white and gray colors to show a fan that even color-blind audience members could follow along and be included with the painting. His touching message of inclusion and positivity was truly inspiring.
The famous artist passed away on July 4, 1995, from lymphoma complications. He is survived by his son Steve Ross.
Back to the Celebrity Faith Database