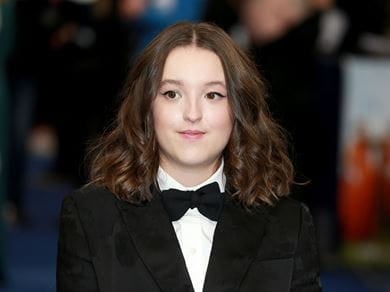 Fred Duval / Shutterstock.com
Faith:

Christian

Career:

Actress

Birthday:

September 30, 2003

Fun Fact:

Bella Ramsey says their faith helped them handle their eating disorder.
Bella Ramsey is an English actor best known for their breakout role as noblewoman Lyanna Mormont in the HBO series "Game of Thrones" and Ellie in the drama series "The Last of Us," which earned them a Primetime Emmy nomination. Ramsey also played Mildred Hubble in the CBBC series "The Worst Witch" and starred in the film "Catherine Called Birdy," which earned them a nomination for the Critics' Choice Movie Award For Best Young Performer.
Ramsey was born in 2003 in Nottingham, England, growing up in Leicestershire. When they were three, they joined an amateur theater group and participated in drama clubs as a child. Then, they enrolled in the Television Workshop in Nottingham and auditioned for professional roles, leading to their first credited role. In a Twitter video, Ramsey recalled one of their first auditions and the feedback she got.
Ramsey said, "The director really liked me, but I didn't get the part because I didn't have the 'Hollywood look.' That's something that I've always found very interesting." Ramsey joined the "Games of Thrones" cast at 11 during season six as Lyanna Mormont, head of the Mormont house. They only appeared in nine episodes from seasons six through eight, but quickly became a fan favorite.
In 2019, she discussed her role with The Cut: "I think playing confident characters also helps with your own confidence. Say you're in a situation where you're feeling anxious or nervous, you become a character and work through it that way." In October 2018, on Twitter, Ramsey shared their struggles with an eating disorder. In a series of tweets posted for World Mental Health Day, they shared that they'd been diagnosed with anorexia nervosa "just over a year ago" but noted, "this illness has a hold of me for a year or so before that."
They wrote, "There isn't always an answer, but let me tell you this - there's always a way out. There's always light at the end of the tunnel no matter how dim it might seem," she wrote. "I am fortunate to have reached that light, at moments, it felt nonexistent. But it was always there."
Is Bella Ramsey religious?
Bella Ramsey identifies as a Christian. They say their faith helped them while struggling with anorexia nervosa. They ran an Instagram page and YouTube channel called United Hope, where they shared their faith.
Back to the Celebrity Faith Database