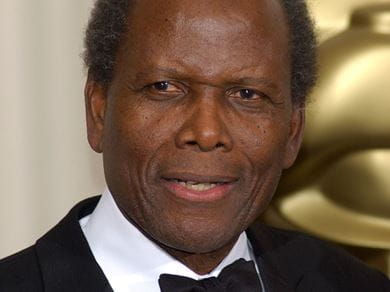 Featureflash Photo Agency / Shutterstock.com
Faith:

Agnostic

Career:

Actor

Birthday:

February 20, 1927

Date of Death:

January 06, 2022

Accomplishments:

Oscar winner, Academy Award Winner

Fun Faith Fact!:

In a 2000 interview with Oprah, he was asked about his religion to which he responded "I am not a hugely religious person, but I believe that there is a oneness with everything."
Sidney Poitier was born in Miami, Florida, on Feb. 20, 1927. His mother delivered him two and a half months prematurely while his parents were in Miami on vacation. As soon as it was safe to leave the hospital, Poitier and his family departed from the United States and returned to their home in the Bahamas. Poitier spent most of his childhood in Cat Island on his father's farm. Following the farm's turmoil, his family relocated to Nassau when he was ten.
Growing up in Nassau, Poitier made a habit of getting into trouble frequently. His parents sent him to live in the United States to resolve his behavior issues to live with his brother in Miami. When he was 16, Poitier moved from Miami to New York City, where he worked various minimum wage jobs to get by and served in the U.S. Army until he discovered his career passion. To start his acting pursuit, he joined the American Negro Theater and searched for acting roles in Hollywood. In 1963, Poitier starred in "Lilies of the Field." In 1964, he made history when he won an Academy Award for Best Actor since no African American had ever won that award prior.
Poitier achieved many awards and milestones in his career. He directed many films, such as "Buck and the Preacher" and "Stir Crazy." In 1974, he was appointed a Knight Commander of the British Empire, which officially gave him the title "Sir." In 2009, the award-winning actor was presented with the Presidential Medal of Freedom by President Barack Obama.
The famous actor also had many accomplishments in the literary world. In 2000, he published his spiritual autobiography titled "The Measure of a Man." The audiobook for his autobiography won a Grammy Award for best-spoken word album. In 2008, he released a book of wisdom called "Life Beyond Measure: Letters to My Great-Granddaughter."
In a 2000 interview with Oprah, he was asked about his religion to which he responded "I am not a hugely religious person, but I believe that there is a oneness with everything."
Poitier passed away on Jan. 6, 2022. He was 94.
Back to the Celebrity Faith Database