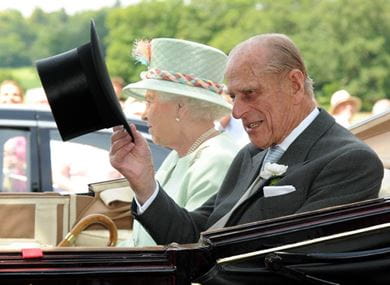 Faith:

Christian

Career:

Public Figure

Birthday:

June 10, 1921

Accomplishments:

Royal, World Wildlife Fund, admiral, Royal Navy

Fun Faith Fact!:

Prince Philip was baptized in the Greek Orthodox Church.
Prince Philip, Duke of Edinburgh, was the patriarch of the British royal family as Queen Elizabeth II's husband and the father of four royal children. Prince Philip was born in Greece and, with his birthright, assumed a position in the Greek and Danish royal families. However, his family was exiled from the country when he was just over a year old.
Since being baptized in the Greek Orthodox Church as a baby, Prince Philip was raised as a Greek Orthodox. However, by the time the Prince married Queen Elizabeth, Philip identified as an Anglican. The Duke of Edinburgh regularly attended Church of England services during his lieutenant tenure in the British Royal Navy during World War II.
Back to the Celebrity Faith Database