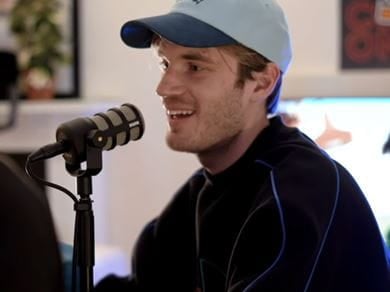 Cold Ones Clips / Wikimedia.org
Faith:

Atheist

Career:

Public Figure

Birthday:

October 24, 1989

Accomplishments:

YouTuber

Fun Fact:

After the confession of his religious beliefs, PewDiePie lost over 100,000 subscribers.
Who is Pewdiepie?
Felix Kjellberg, known for his screen name PewDiePie, is a famous internet gamer. Since starting his YouTube channel, he has gained over 100 million subscribers and over 24 billion views. His channel's content focuses on video and online gaming.
Pewdiepie background
Kjellberg was born in Gothenburg, Sweden, on Oct. 24, 1989. His parents', Johanna and Ulf, professions are chief executives. His hobbies were art and playing games on his Super Nintendo during his childhood. His love for playing video games in his bedroom as a child grew into the career that he now has today. His environment in Sweden significantly impacted how he occupied his time. "Sweden has a great culture around gaming," the well-known YouTuber shared with Rolling Stone magazine in a 2015 interview. "We're really nerdy people."
In his senior year of high school, the young aspiring artist purchased a computer with funds he earned from original artwork he sold. Shifting his priority to gaming in 2006, he created his first YouTube channel and named it "PewDie" after the sound effect that a laser makes. After putting his account to the side after a few years, he lost his password and created a brand-new YouTube channel, the infamous "PewDiePie" in 2010. At the time, he was majoring in industrial economics and technology management at Chalmers University. The YouTuber expressed to Maria Lindholm from Icon Magazine of his struggles to fit in, "I had nothing in common with the rest of the people in the program." Wanting to improve his editing skills, he watched online tutorials to prepare for his first "Let's Play" video to debut on his channel.
Pewdiepie comments on religion
In 2015, the YouTuber commented on his religious beliefs in one of his videos., "I'm agnostic atheist, it basically means I don't believe in a god, but I can't disprove of one either." After the confession of his religious beliefs, he lost over 100,000 subscribers.
Back to the Celebrity Faith Database