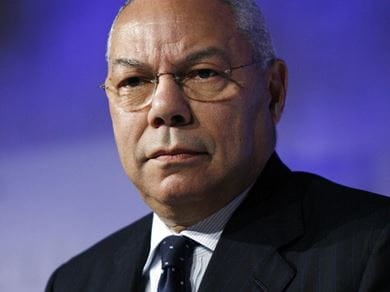 stocklight / Shutterstock.com
Faith:

Christian

Career:

Politician

Birthday:

April 05, 1937

Accomplishments:

Secretary of State

Fun Fact:

Powell started a youth ministry at his church.
Colin Powell was an American four-star general, politician, and diplomat who served from 2001 to 2005 as the 65th United States Secretary of State. He made history by serving as the first African American Secretary of State.
The national security advisor dedicated almost four decades of his life to servitude for the nation. Before his pollical career, he served in the Army for over 35 years. In 2003, the nation's top soldier gave an iconic speech at the United Nations that had a major impact on the US's involvement in the war in Iraq.
The legendary politician died from Covid-19 complications on Oct. 18 at Walter Reed National Military Medical Center in Bethesda, Md. It was reported that the former Secretary of State was vaccinated and had received treatment for multiple myeloma, an immune-suppressing cancer that forms in plasma cells. He was 84 years old.
Powell grew up in the Episcopal Church and still practiced his Christian faith. He even formed a youth ministry at his church.
"His faith leads him to serve others, and he has dedicated the rest of his life to doing that." former senior pastor of Willow Creek Community Church Bill Hybels spoke of Powell.
Powell was a humble servant to this country, and his historical leadership position was an inspiration to the African American community. His legacy will live on in the hearts of many.
Back to the Celebrity Faith Database