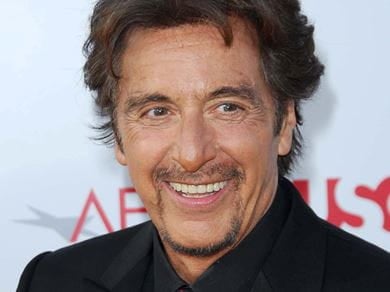 s_bukley / Shutterstock.com
Faith:

Christian - Catholic

Career:

Actor

Birthday:

April 25, 1940

Fun Fact:

Al Pacino was raised in the Catholic faith.
Alfredo James Pacino is considered one of the most influential actors of all time. He's received numerous awards during his career, including an Academy Award, two Emmys, and two Tony Awards, making him one of the few to achieve the Triple Crown of Acting. Pacino starred in his debut film at 29 years old, titled "Me, Natalie." He started getting noticed for his lead role as a heroin addict in "The Panic in the Needle," Pacino received widespread acclaim for his role as Michael Corleone in "The Godfather." He would reprise his role as Corleone in "The Godfather" sequels.
In the television realm, Pacino has starred in several HBO productions and currently stars in the Amazon Video series "Hunters." He made his filmmaking debut in 1996, and he's been the joint president of the Actors Studio since 1994.
Is Al Pacino Religious?
Al Pacino was raised and baptized as an Italian Catholic. Pacino is the son of full-on Italians and was brought up as such. However, it seems to have been only in name that Pacino was Catholic. Pacino said, "My parents were Italian, and they had me baptized, but I was not raised in the Catholic tradition. I come from a broken home."
Back to the Celebrity Faith Database