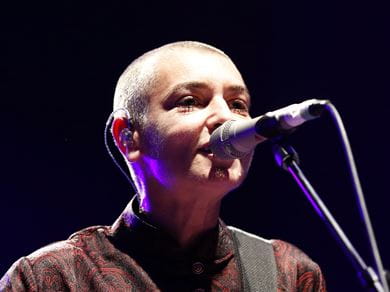 Pymouss / Wikimedia.org
Faith:

Muslim

Career:

Musician

Birthday:

December 08, 1966

Date of Death:

July 26, 2023

Accomplishments:

Grammy Award-Winning Artist

Fun Fact:

After converting to Islam in 2018, O'Connor changed her name to Shuhada' Sadaqat.
Sinéad O'Connor was an Irish singer and musician. Her career kicked off with the release of "The Lion and the Cobra" in 1987. However, it was her 1990 album, "I Do Not Want What I haven't Got" that propelled her to stardom with the hit song "Nothing Compares 2 U."
Sinéad O'Connor was born on December 8, 1966, in Dublin, Ireland. She was raised in a Catholic household by her mother, Marie, and father, John. Her parents divorced when she was eight years old, and her mother remarried a man who was physically abusive towards Sinead. She attended a Catholic school and left at the age of 15 to live with her father in Dublin.
O'Connor began writing and performing her own music at a young age, influenced by her mother's love of traditional Irish folk music. Despite her success in music, O'Connor's personal life was often fraught with turmoil, including a public struggle with mental illness and strained relationships with her family. Nonetheless, her impact on music and her willingness to speak out on controversial issues has made her an icon in the industry.
Was Sinéad O'Connor Religious?
O'Connor's exploration of faith and religion has been a prominent aspect of her life and music. Throughout her career, she has openly discussed her spiritual beliefs and experiences, which have often been met with controversy and criticism. O'Connor's religious journey has been a deeply personal and evolving one.
Raised in a Catholic household in Ireland, O'Connor's early exposure to religion played a significant role in shaping her worldview. However, as she grew older, she began to question and challenge the doctrines and practices of the Catholic Church. This led her to explore other spiritual paths and philosophies, including Buddhism, Hinduism, and Rastafarianism.
O'Connor's album "Theology," released in 2007, further exemplified her exploration of faith and religion. The album consists of traditional hymns and original songs that reflect her spiritual journey and her deep connection with God. Through her music, she has expressed her belief in the power of prayer, the importance of compassion, and the search for inner peace.
In 2018, O'Connor announced that she converted to Islam and changed her name to Shuhada' Davitt after concluding that all other religions are based on "redundant" text.
On July 26, 2023, it was revealed that O'Connor had passed away at the age of 56.
Back to the Celebrity Faith Database