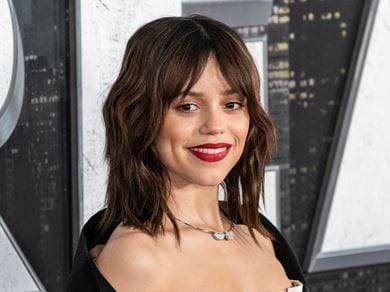 lev radin / Shutterstock.com
Faith:

Spirituality

Career:

Actress

Birthday:

September 27, 2002

Fun Fact:

Jenna Ortega published her first book in 2021.
Jenna Ortega is an actress. She started her career as a child actress, receiving critical acclaim for her role as young Jane on the comedy-drama series "Jane the Virgin." However, her breakout role was playing Harley Diaz in the Disney Channel series "Stuck in the Middle," which earned her an Imagen Award. She played Ellie Alves in the second season of the Netflix series "You" and starred in the Netflix family movie "Yes Day."
Ortega received recognition for her performance in the teen drama movie "The Fallout" and also starred in the slasher movies "X" and "Scream." In 2022, she starred as Wednesday Addams in the Netflix series "Wednesday," which earned her nominations for a Golden Globe, a Primetime Emmy, and a Screen Actors Guild Award. Ortega was born in California, the fourth of six children. Due to her career, she hasn't lived a normal lifestyle, expressing regret about missing the traditional high school experience and teenage milestones like graduation and prom.
Ortega became interested in acting when she was six. When she turned eight, her mother posted a video of her doing a dramatic monologue on Facebook, which got an agent's attention. After connecting with the agent, Ortega started getting auditions and soon made her acting debut in 2012 with a guest appearance on "Rob." After that, she appeared on "CSI: NY." In 2013, she made her movie debut in "Iron Man 3" as the vice president's daughter. After that, Ortega starred in "Insidious: Chapter 2," which was a box-office success.
Ortega has used her platform to promote support for immigrants and politics involving them. She supports Pride Over Prejudice, a campaign that promotes acceptance of the LGBT community, advocating for the organization since she was 13. She told Teen Vogue, "It's important to embrace your culture today because there are so many different ethnicities in America. At the end of the day, you are you. You've got to stay true to yourself, and you can't change yourself in order to fit in or to make someone else feel comfortable."
Is Jenna Ortega religious?
Jenna Ortega doesn't affiliate with any religion but identifies as spiritual. In her book, "It's All Love: Reflections From Your Heart & Soul," she wrote, "Faith is unique to each person, but it provides a great connection to the world and the universe around us. Faith is not necessarily the same as religion, although they're often used interchangeably. If you don't have a strong religious practice or an affliction with a certain religious sect, you can still be faithful. Faith is also belief, and that belief can be in God, or in the goodness of the universe around you, or maybe even in yourself. It's a foundation to stand on when things get hard."
Back to the Celebrity Faith Database