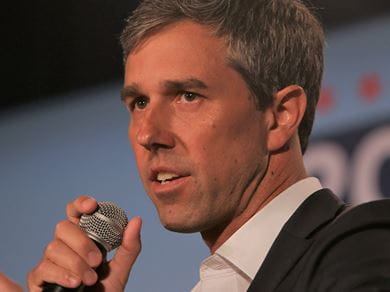 Rich Koele / Shutterstock.com
Faith:

Christian - Catholic

Career:

Politician

Birthday:

September 26, 1979

Accomplishments:

State Representative

Fun Faith Fact!:

During a CNN town hall, the democratic presidential candidate stated that "religious institutions should be stripped of their tax-exempt status if they oppose same-sex marriage."
Robert Francis O'Rourke is an American politician affiliated with the democratic party. He served for Texas's 16th congressional district in the United States House of Representatives from 2013 to 2019. O'Rourke is most known for his 2018 campaign for U.S. Senate, which resulted in his defeat due to Republican incumbent Ted Cruz.
Before his political career took off, O'Rourke was in a punk rock band called "Foss" during his college years. He also worked a plethora of jobs such as being a live-in babysitter, a proofreader at a publishing company, and working at an art moving company.
After leaving New York to focus on his political career, O'Rourke won a city council seat in El Paso. Later on, he gave up his U.S. House of Representatives seat for Texas' 16th district in 2018. His campaign gained him national recognition and set a record for the narrowest win for a Democrat against a Republican in "red Texas."
Despite being Catholic, O'Rourke doesn't speak on his personal religious beliefs as much as he speaks on others. During a CNN town hall, the democratic presidential candidate stated that "religious institutions should be stripped of their tax-exempt status if they oppose same-sex marriage."
When asked by CNN news anchor Don Lemon, "Do you think religious institutions — like colleges, churches, charities — should lose their tax-exempt status if they oppose same-sex marriage?"
O'Rourke quickly responded, "Yes. There can be no reward, no benefit, no tax break, for anyone or any institution, any organization in America, that denies the full human rights and the full civil rights of every single one of us, and so as president, we are going to make that a priority, and we are going to stop those who are infringing upon the human rights of our fellow Americans."
Back to the Celebrity Faith Database