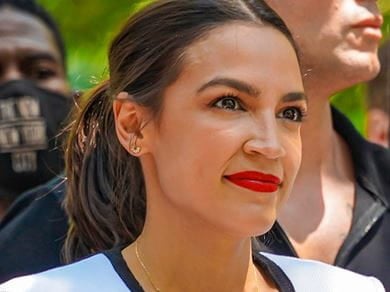 Daniel Lehrhaupt / Shutterstock.com
Faith:

Christian - Catholic

Career:

Politician

Birthday:

October 13, 1989

Accomplishments:

House Of Representative

Fun Fact:

Her favorite Biblical story was when Jesus cast out the greedy moneychangers from the temple.
Alexandria Ocasio-Cortez is an American activist and politician. She is affiliated with the Democratic socialist party. The Bronx native gained national recognition in 2018 by defeating the 10-term New York Democrat incumbent in the congressional primary, making her the youngest woman ever elected to U.S. Congress.
On Oct. 13, 1989, Ocasio-Cortez was born in Bronx, New York, NY. Her working-class Puerto Rican family raised her in the Bronx, New York. After graduating from Yorktown high school, Ocasio-Cortez attended Boston University, majoring in economics and international relations. In addition to her undergraduate studies, the aspiring politician worked for Senator Ted Kennedy's office with a specific focus on immigration issues.
After graduation, she returned to her hometown, where she worked as a community organizer. With the recession happening, in addition to her family's financial struggles after her father passed in 2008 from cancer, she took on many low-paying jobs to help her family get by.
Although she was raised and is currently Catholic, the politician tries to refrain from discussing her religious views. In an interview with the press, Ocasio-Cortez stated, "It's not something that I want to cheapen, or it's not something that I want to use as currency." She explained, "I haven't talked about it yet much on the outside. I'm very conscious of that. But today, we're in a family."
She has also shared with NPR that many Biblical events inspired her political values. Matters such as universal healthcare was inspired by the parable of the Good Samaritan and how Jesus healed everyone who asked and needed it in the New Testament. She recalled her favorite Biblical story was when Jesus cast out the greedy moneychangers from the temple. She said these were all stories and beliefs that she was raised with.
Back to the Celebrity Faith Database