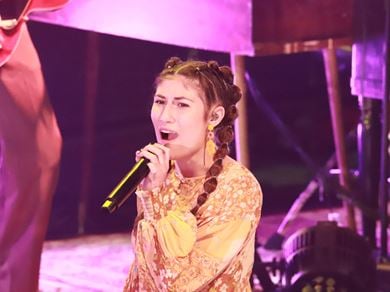 Gregory Lloyd Page / Flickr
Faith:

Christian

Career:

Musician

Birthday:

July 29, 2000

Fun Fact:

Nichole said she wants to make songs that glorify God.
Katy Nichole is a Christian songwriter and musician. In 2022, she debuted, releasing her single "In Jesus Name (God of Possible.) The song was a breakout hit, reaching number one on Billboard's Hot Christian Songs and Bubbling Under Hot 100 charts. Her next song, "God Is in This Story," also reached number one on the Hot Christian Songs chart. She released her debut self-titled EP, which debuted at number seven on the Top Christian Albums.
Nichole was born with congenital scoliosis, an uncommon and progressive form of the ailment, and the effects of the curvature eventually required back surgery with metal rods and screws placed into her spine. She said, "I went into the surgery, and when I came out, I was in excruciating pain every single day. When I was supposed to be recovered, I was still in pain. I was severely depressed, had anxiety I had never even seen before, and there was one moment where I said, 'God, I cannot do this anymore.' But I don't believe that God would waste a single second of our pain. And I know He didn't in that season of my life."
Eventually, Nichole's doctors determined removing those metal rods and screws was the only option. After her latest surgery was complete, and in a windowless intensive care unit in the hospital, Nichole experienced a brightness she had never seen before. "I looked up, and I saw the light again for the first time," Nichole said. "It was as if I was meeting Jesus for the first time. I know that's kind of crazy because I've known Jesus my whole life – I've always been a Christian – but I just knew His presence was all over that room."
Is Katy Nichole religious?
Katy Nichole grew up in a Christian household. In an interview, Nichole shared that she didn't have a personal relationship with Jesus until she was 17 when she said she dedicated herself to God. She joined a small group, which helped her understand the Bible. Nichole said the intentionality in her relationship with Jesus changed her life.
As for her music, Nichole says she wants to make songs that glorify God. In an interview, she said, "I spend time with Jesus so that I can do that and so that I can spend my life trying to become more like Christ. We strive towards that every day, but we also fall short every day. I'm doing my best to pour that into my music."
Back to the Celebrity Faith Database