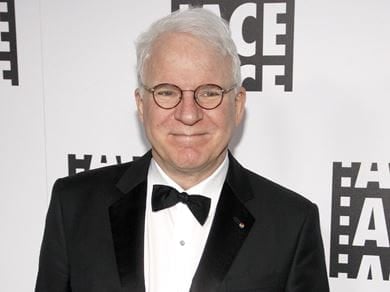 Tinseltown / Shutterstock.com
Faith:

Agnostic

Career:

Author

Birthday:

August 14, 1945

Accomplishments:

Grammy Award, Academy Award

Fun Fact:

He studied philosophy at California State University and considered being a philosophy professor instead of an actor-comedian.
Steve Martin was noticed first as a writer for the "Smothers Brothers Comedy Hour" and became a frequent comedian guest on The Tonight Show. His stand-up comedy performances were big in the 1970's but he found even more success when he started acting in the 1980's and even became a play writer in the 90's. Some of his most famous movie titles include, Cheaper by the Dozen, The Pink Panther, and Father of the Bride.

In addition to acting, Martin loves performing his banjo he has been playing since he was only 17 years old. It became a part of his stand-up career back in the 1970's and he even released his own album in 2009 and appeared on The Grand Ole Opry. He has been married twice but only has one daughter with his second wife, Anne Springfield, who was born when Martin was 67. Martin is also an avid art collector and his own collection features pieces from Roy Lichtenstein, Picasso, and Edward Hopper. He sold Hopper's piece, Hotel Window, at Sotheby's auction for $26.8 million in 2006. Unfortunately, he was involved in a forgery scandal in 2006 when he purchased a piece of art in France that was later linked to a group of German swindlers who were eventually caught in 2010.
Back to the Celebrity Faith Database