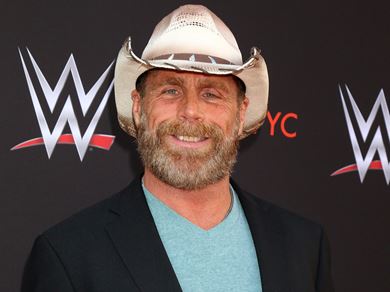 Faith:

Christian - Catholic

Career:

Athlete

Birthday:

July 22, 1965

Fun Faith Fact!:

After being interviewed by Playgirl Magazine, he didn't realize what the interview was for until after he was told by fellow wrestlers.
Three-time WWF champion Shawn Michaels, born Michael Shawn Hickenbottom in Arizona, has a wrestling career spanning nearly three full decades and countless appearances. Raised the youngest of 4 children in a Catholic military family in San Antonio, Shawn was an athletic child and found his calling at the age of 12. He suffered a severe back injury in 1998, herniating 2 discs and crushing a third in a wrestling event, and was forced into retirement. He made a comeback in less than 10 years, though semi-retiring again in 2013, but still making appearances including one that was a social media effort. Shawn was known for incorporating religious symbolism into his ring appearances, as well as for dropping to his knees in prayer prior to a match (as pyrotechnics went off). Shawn has 2 children, both with his second wife. He teaches Bible school at his church, John Hagee's Cornerstone Church in San Antonio.
Back to the Celebrity Faith Database