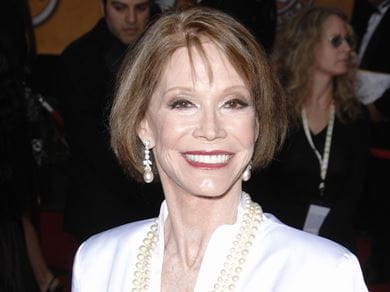 Featureflash Photo Agency / Shutterstock.com
Faith:

Catholic

Career:

Actress

Birthday:

December 29, 1936

Date of Death:

January 25, 2017

Fun Fact:

Moore and her family lived in a Jewish neighborhood in Brooklyn, New York.
Mary Tyler Moore was a producer, actress, and social advocate. She's best known for her roles on "The Dick Van Dyke Show" and "The Mary Tyler Moore Show," which helped define a new vision of American womanhood, appealing to an audience facing new trials of modern-day existence. Moore won seven Primetime Emmys and three Golden Globe Awards. She was nominated for the Academy Award for Best Actress performing in "Ordinary People." She had a supporting role in the film "Thoroughly Modern Millie." She also advocated for diabetes research and awareness, animal rights, and vegetarianism.
Moore was born in 1936 in the Brooklyn Heights neighborhood of Brooklyn, New York, to Marjorie and George Tyler Moore. Moore and her Irish-Catholic family lived in Brooklyn's Flatbush neighborhood and later moved to Queens. Moore was the oldest of three children, with a younger brother, John, and a younger sister, Elizabeth. The family relocated to Los Angeles when she was eight at her uncle's recommendation. Tragically, Moore's sister Elizabeth died when she was 21 from a combination of alcohol and painkillers. Her brother died at 47 from kidney cancer.
Moore's TV career started with a job as "Happy Hotpoint," a tiny elf dancing on Hotpoint appliances in commercials during the 1950s show "Ozzie and Harriet." In 1961, Carl Reiner cast Moore in "The Dick Van Dyke Show." Her energetic comic performances made her and her signature capri pants extremely popular, and she became internationally known. In 1970, after performing in the one-hour special "Dick Van Dyke and the Other Woman," Moore and her husband, Grant Tinker, successfully pitched "The Mary Tyler Moore Show" to CBS. The show bridged aspects of the Women's Movement with mainstream culture by showing an independent woman whose life focused on career over family.
Moore was diagnosed with type 1 diabetes in 1969. In 2011, she had surgery to remove a benign brain tumor. In 2014, friends reported that Moore had kidney and heart problems and was almost blind due to diabetes complications. She died at 80 in 2017 from cardiopulmonary arrest complicated by pneumonia after being on a ventilator the week before. She was buried in Oak Lawn Cemetery in Connecticut in a private ceremony.
Was Mary Tyler Moore religious?
Mary Tyler Moore was raised Catholic and attended St. Rose of Lima Parochial School in Brooklyn until third grade. In Los Angeles, she attended Saint Ambrose School and Immaculate Heart High School in the Los Feliz neighborhood. Moore described her childhood: "The Moores and one other family were the only Catholics in an Orthodox Jewish community where my grandfather owned the house we would live in." She continued, "I made my first Communion at St. Rose of Lima Church and took no small amount of kidding for the bridelike veil I wore on that particular Sunday."
Back to the Celebrity Faith Database