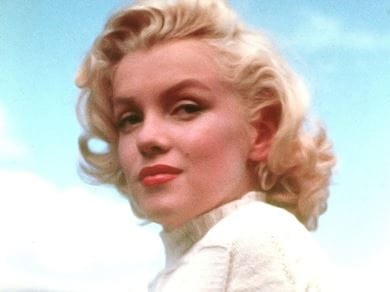 Public Domain
Faith:

Judaism

Career:

Actress

Birthday:

June 01, 1926

Date of Death:

August 04, 1962

Fun Fact:

Monroe kept a brass-plated menorah in her home.
Marilyn Monroe is an iconic model, singer, and actress. She was born Norma Jean Mortenson in Los Angeles to Gladys Pearl Baker. After an unstable childhood, Monroe got a job in a factory at 16 years old, where she met a photographer, leading to a successful pin-up modeling career. In 1950, Monroe signed a new contract with Fox and skyrocketed to fame, starring in films like "As Young as You Feel," "Don't Bother to Knock," and "Monkey Business." By 1953, Monroe was one of the biggest names in Hollywood.
Unfortunately, her private life was tumultuous, and Monroe couldn't escape her dark past. She was married three times and suffered from mood disorders and drug addiction. On August 6, 1962, she died from an overdose of barbiturates at 36 years old. After her death, Monroe remains a pop culture icon.
Was Marilyn Monroe religious?
Marylin grew up as a Christian but converted to Judaism after marrying Jewish playwright Arthur Miller. She once told her acting coach's daughter that she identified with Jewish people. Monroe said, "Everybody's always out to get them, no matter what they do. Like me." Though Miller and Monroe eventually divorced, Monroe held on to her Jewish identity. She even had a brass-plate menorah in her home.
Back to the Celebrity Faith Database