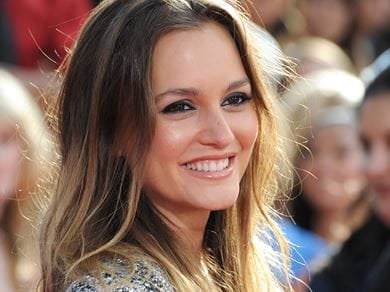 Faith:

Christian - Catholic

Career:

Actress

Birthday:

April 09, 1986

Fun Fact:

Attended Catholic school.
Leighton Meester is a singer, actress, and model. She's best known for her role as Blair Waldorf on "Gossip Girl," which aired from 2007 to 2012 on The CW. She's also appeared in movies like "Killer Movie," "Country Strong," "The Roommate," "Monte Carlo," "The Oranges," "The Judge," and "The Weekend Away." She made her Broadway debut in "Of Mice and Men" and played Angie D'Amato on the ABC series "Single Parents."
Outside of acting, Meester also ventured into music. In 2009, she was featured on the Cobra Starship song "Good Girls Go Bad," which charted in the top ten on the Billboard Hot 100. She released solo singles "Your Love's a Drug" and "Somebody to Love" on the Universal Republic label. She's also recorded songs for various soundtracks. Meester's debut album "Heartstrings" was independently released in 2014. She's also modeled as the face of the Jimmy Choo, Vera Wang and Herbal Essences brands.
Meester was born in 1986 in Fort Worth, Texas. She has an older brother and a younger brother. When she was born, Meester's parents were serving time in federal prison for their involvement in a drug ring that smuggled marijuana from Jamaica to the United States. Her mother was able to give birth to Leighton in a hospital and nurse her for three months in a halfway house before returning to prison to complete her sentence, and Meester's paternal grandparents cared for her during that time. Despite their criminal past, she's maintained that her parents gave her a normal childhood.
The actress has said, "It made me realize that you can't judge anyone, especially your parents, for what they've done in their pasts because people change." Meester grew up in Marco Island, Florida, where she participated in productions at a local playhouse. Unfortunately, her parents separated in 1992. When she was 11 years old, Meester and her sibling moved to New York City with their mother. She attended the Professional Children's School and started working as a model with Wilhelmina. At 14, she relocated to Los Angeles, where she transferred to a small private school and graduated a year early.
What religion is Leighton Meester?
Meester doesn't seem to be spiritual or religious in any way. There's some speculation that she's Catholic because, in a Rolling Stone interview, she said she tried out a Catholic school for a while. However, you don't have to be Catholic to attend a Catholic school. She meditates during her workouts, but it seems to be more of a stress reliever than part of a spiritual routine.
Back to the Celebrity Faith Database