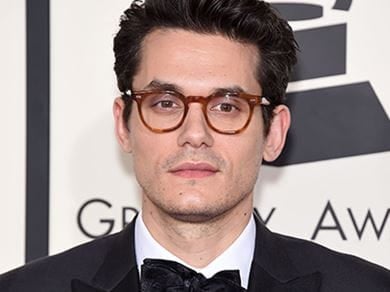 DFree / Shutterstock.com
Faith:

Judaism

Career:

Musician

Birthday:

October 16, 1977

Accomplishments:

Grammy Awards

Fun Fact:

Raised in both Jewish and Christian faiths
John Clayton Mayer, known professionally as John Mayer, is a songwriter, singer, and guitarist. Born and raised in Connecticut, Mayer attended Berklee College of Music in Boston but moved to Atlanta in 1997 with Clay Cook. The two formed a short-lived two-person band called Lo-Fi Masters. After the group split, Mayer continued to play at local clubs, gaining a following and refining his skills. After his appearance at the 2000 South by Southwest festival, he was signed to Aware Records and eventually to Columbia Records.
Mayer released his first EP at Columbia Records, "Inside Wants Out." His subsequent two studio albums, "Room for Squares" and "Heavier Things" performed well commercially, achieving multi-platinum status. In 2003, he won the Best Male Pop Vocal Performance Grammy for his hit single "Your Body is a Wonderland." By 2005, Mayer moved away from the acoustic music that characterized his early records and started singing the rock and blues music that had initially influenced him as a musician. He collaborated with artists like B.B. King and Eric Clapton.
He released a live album, "Try!" after forming the John Mayer Trio in 2005 and released his third studio album "Continuum" in 2006. Both albums received positive reviews, and "Continuum" earned Mayer a 2007 Grammy Award for Best Pop Vocal Album. He's also won Best Male Pop Vocal Performance for "Waiting on the World to Change." That album was followed by 2009's "Battle Studies," a return to pop with a Battle Studies World Tour.
After several controversial incidents with the media, Mayer withdrew from public life in 2010 and started working on his fifth album, "Born and Raised," which drew inspiration from the 1970s pop music of Laurel Canyon. However, the discovery of granuloma on his vocal chords delayed the album's release until May 2012, forcing him to cancel the planned tour. The album received a favorable reception, though it was less of a commercial success than his previous work. In 2013, Mayer started singing again and released his sixth studio album, "Paradise Valley."
By 2014, he had sold over 20 million albums worldwide. His seventh studio album, "The Search for Everything," was released in 2017. Mayer released his latest album, Sob Rock, inspired by 1980s soft rock music, in July 2021. Mayer's secondary career pursuits include comedy, television hosting, and writing. He's authored columns for magazines like Esquire and supports various causes, performing at charity benefits.
What religion is John Mayer?
Mayer was raised in a Christian-Jewish household. However, it would appear that the singer favors his Jewish background. In an interview with Playboy Magazine, Mayer said, "I'm half Jewish. People say, 'Well, which side of your family is Jewish?' I say, 'My dad's.' And they always say it doesn't count. But I will say I keep my pool at 92 degrees, so you do the math. I find myself relating to Judaism. One of my best friends is Jewish beyond all Jews–I went to my first Passover seder at his house, and I train in Krav Maga with a lot of Israelis."
Back to the Celebrity Faith Database