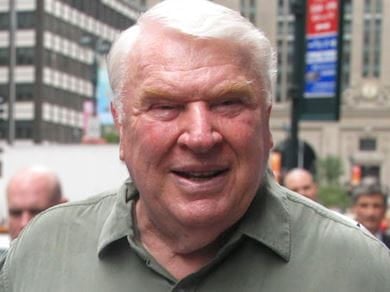 Andrew Dallos/Flickr
Faith:

Christian

Career:

Public Figure

Birthday:

April 10, 1936

Accomplishments:

Lifetime Achievement Award, Emmy Award, NFL Hall of Fame, NFL Honors, , Pro Football Hall of Fame

Fun Faith Fact!:

While John attended Catholic parochial school during his younger days, he later stated his beliefs and faith were of Christianity.
John Madden was a legendary NFL broadcaster, coach and icon. You have likely heard his voice so much you could identify who he was without even seeing his face. For ten years, Madden was the head coach for the Oakland Raiders and even led the team to a championship game in Super Bowl XI. John is credited for being the soundtrack of the NFL, and Many NFL coaches believe Madden had the most significant impact on the NFL than anyone else in the world.

The hall of fame coach got his start in football back in college. After playing only one season for San Mateo College, he was given a football scholarship to the University of Oregon. After earning two diplomas, a Bachelor of Science in Education and a Master of Arts in Education, Madden was drafted by The Philadelphia Eagles. Unfortunately, during his first training camp, he suffered a career-ending injury.

Then, John combined his love of the game with his passion for teaching and became the most incredible sports analyst ever to live. During his career, Madden won multiple awards, including the sports Emmy Award for outstanding sports personality as a studio analyst in 1992, 1995 and 1996. He won Emmy Awards again in 2004, 2006 and 2008 for outstanding sports personality as a sports event analyst. Then in 2009, Madden was awarded a sports lifetime achievement award.

You might be more familiar with Madden NFL games as he has been the famous video game ambassador since 1988. He lent his 'character', which included his personality, voice and namesake, to EA Sports as a way to get fans involved with the game.

Madden's accomplishments on and off the field are awe-inspiring and show just how important he was to the game and to fans everywhere.
Back to the Celebrity Faith Database