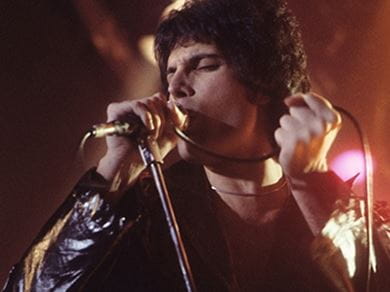 Carl Lender / Wikicommons
Faith:

Zoroastrianism

Career:

Musician

Birthday:

September 05, 1946

Date of Death:

November 24, 1991

Accomplishments:

Queen

Fun Faith Fact!:

Freddie Mercury is awesome.
A lot of words have been penned on the impact Freddie Mercury had on music. Many, including myself, consider him to be the greatest front man of all-time, and that is a throne he will likely never be unseated from. Like many of his era, including David Bowie, he was a man of great mystery. Born in East Africa, Mercury was raised in the Zoroastrian religion. While it is not clear how much he practiced the religion throughout his life, his funeral exhibited his positive feelings toward his faith by evoking Zoroastrian customs and using Zoroastrian priests, along with a healthy dose of rock and roll edge.
Back to the Celebrity Faith Database