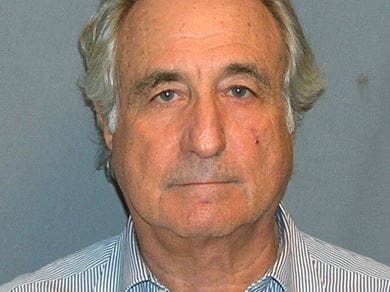 Credit: Public Domain
Faith:

Judaism

Career:

Public Figure

Birthday:

April 29, 1938

Accomplishments:

Nasdaq, Chairman

Fun Faith Fact!:

Bernie Madoff was the treasurer of Yeshiva University.
Bernie Madoff was an American financier, stockbroker, investment advisor, and convicted felon who served a federal prison sentence for his orchestration of one of the largest Ponzi schemes in American financial history.
Madoff's arrest not only shocked Wall Street but also sent the Jewish world spiraling. Many investors ranging from Jewish nonprofits to Jewish day schools to Jewish universities to individual retirees put their finances in the hands of Madoff. In a document reported in 2008, the infamous financier managed an estimated $67 billion of other's money. When Madoff's Ponzi scheme fell apart, so did the finances of a plethora of Jewish institutions and individuals.
Years before his arrest, many Jewish foundations and public figures networked with Madoff in the realm of Jewish philanthropy. The investors perceived his previous money management reputation as an asset that would increase their funds for their company charities and personal accounts. This false perception and trust made Madoff's fraud conviction especially disastrous for the Jewish finance society since it resulted in a loss of over a billion dollars and the onset of more financial hardship in the Great Recession.
Yeshiva University, where Madoff was the treasurer, lost about $100 million after the scheme came crashing down.
"The individual repercussions of it are extreme and heartbreaking, and in certain cases, fatal," Temple University Professor Lila Corwin-Berman stated at the time about the financial travesty, "Families and individuals and even certain organizations were really dealt blows they could not absorb because of his crime."
Back to the Celebrity Faith Database