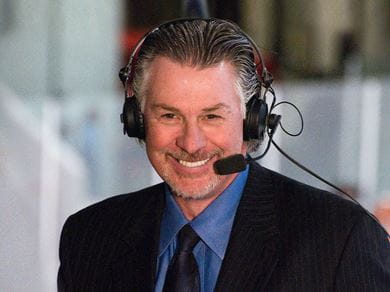 Eric Kilby / Flickr
Faith:

Christian

Career:

Sportscaster

Birthday:

July 15, 1956

Fun Fact:

Barry Melrose coached Wayne Gretzky and the Los Angeles Kings to the Stanley Cup Final in 1993.
Barry Melrose is a broadcaster and former professional ice hockey player and head coach. Melrose played in the World Hockey Association (WHA) and National Hockey League (NHL). After retiring from playing, he became a head coach and is best known for being the coach of the Los Angeles Kings in their run to the 1993 Stanley Cup Finals. Until 2023, he was a long-time commentator and hockey analyst for ESPN as well as a contributor for the NHL Network.
Barry Melrose was born on July 15, 1956, in Kelvington, Saskatchewan, Canada. From an early age, it was clear that Melrose had a natural talent for ice hockey. He grew up playing the sport with his friends and developed a love for the game that would shape his future.
Melrose's career began to take off when he played junior hockey for the Kamloops Chiefs in the Western Canada Hockey League (WCHL). During his time with the Chiefs, he showcased his skills as a defenseman and quickly gained recognition as a promising young player.
In 1974, Melrose was drafted by the Montreal Canadiens in the second round of the NHL Entry Draft. This was a significant moment for him, as it marked the beginning of his professional hockey career. He spent several years playing in the Canadiens' minor league system, refining his skills and preparing for his eventual debut in the NHL.
Melrose's NHL debut came in the 1978-1979 season, when he played for the Winnipeg Jets. He quickly established himself as a physical and skilled defenseman, earning a reputation as a hard-hitting player who could contribute offensively as well. After making his debut with the Winnipeg Jets in the 1978-1979 season, Melrose quickly made a name for himself as a physical and talented defenseman. His hard-hitting playing style and ability to contribute offensively set him apart from other players in the league.
Melrose's career really took off when he joined the Detroit Red Wings in the 1985-1986 season. Under the guidance of head coach Jacques Demers, Melrose's skills flourished, and he became an integral part of the Red Wings' success. With his leadership and determination, the team reached the playoffs for three consecutive seasons, including a trip to the conference finals in 1987.
However, Melrose's true moment of glory came when he transitioned from player to coach. In 1992, he was appointed as the head coach of the Los Angeles Kings. Melrose's coaching style emphasized hard work, discipline, and a strong team dynamic. This approach paid off as the Kings reached the Stanley Cup Finals in the 1992-1993 season, showcasing Melrose's coaching prowess to the world.
Melrose's success as a coach propelled him into the broadcasting world, where he served as a commentator and analyst for ESPN. In 2023, Melrose announced he had Parkinson's disease was stepping away from ESPN to spend more time with his family.
Barry Melrose has been happily married to his wife Cindy for over 40 years. They have raised two children together, a son named Ty and a daughter named Adria. Despite the demands of his hockey career, Melrose always made time for his family. He has said in previous interviews that he values quality time spent with his loved ones and cherishes the moments they share together.
Barry Melrose's Religious Beliefs
Beyond his role as a family man, Melrose's Christian faith is a guiding force in his life. He has spoken openly about his beliefs and credits his faith for providing him with strength and purpose throughout his journey. He finds comfort in his relationship with God and relies on prayer and reflection to navigate life's challenges. While it has gotten a lot easier for a Christian hockey player to talk about his faith, the "Christian isn't tough" stigma is something Melrose previously addressed, saying, "A lot of people in hockey feel you can't be a big, tough, physical player and be a Christian, but just the opposite is true. They are some of the most fierce competitors in the world."
Back to the Celebrity Faith Database