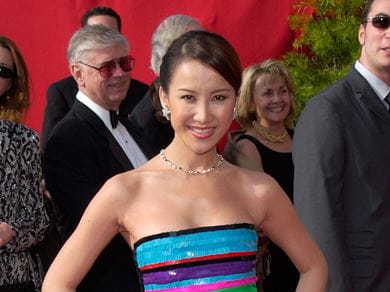 Featureflash Photo Agency / Shutterstock.com
Faith:

Christian

Career:

Musician

Birthday:

January 17, 1975

Date of Death:

July 05, 2023

Accomplishments:

Oscar Nominations

Fun Fact:

In her final Instagram post, Lee shared tattoos reading "love" and "faith" scrawled on her arms.
Coco Lee was born on January 17, 1975, in Hong Kong. She was the youngest of three children in her family and grew up in a multicultural environment. Her father was a mechanical engineer, and her mother was a piano teacher. Growing up, Coco Lee showed an interest in music and learned to play the piano at a young age.
Coco Lee began her singing career in 1993 when she won the first runner-up in the New Talent Singing Awards competition in Hong Kong. This opened doors for her in the entertainment industry, and she signed a contract with PolyGram Records. She released her first album, "Love from Now On," in 1994, which was a commercial success in Hong Kong.
However, it was her move to Taiwan that led to her big break. She released her second album, "Coco Lee," in 1995, which included her hit song "Do You Want My Love." The album was a massive success, and Coco Lee became a household name in Taiwan. Her unique voice, strong stage presence, and ability to perform in Mandarin, Cantonese, and English helped her win fans from all over Asia.
Coco Lee's early career was marked by a series of successful albums, including "Just No Other Way" (1999), "Promise" (2000), and "Sunny Day" (2003). Her music was a blend of pop, R&B, and dance, and she worked with some of the biggest names in the industry, including Quincy Jones and Rodney Jerkins.
With her undeniable talent and stunning stage presence, Coco Lee quickly became a global sensation. Her music transcended language and cultural barriers, allowing her to gain a following in both Asia and the West. In 1997, Coco released her first English album, "Just No Other Way", which topped the charts in Asia and gained critical acclaim in the US. The album featured the hit single "Do You Want My Love", which became an international sensation.
Coco's success in the West continued to soar, with performances at major events such as the Billboard Music Awards, MTV Video Music Awards, and the Grammy Awards. She also collaborated with top international artists like Quincy Jones, Boyz II Men, and Lionel Richie.
In 2003, Coco made history as the first Chinese artist to perform at the Oscars, where she performed the song "A Love Before Time" from the film "Crouching Tiger, Hidden Dragon".
Coco Lee died in 2023 at the age of 48. The cause was suicide, according to a statement from her sisters, Carol and Nancy Lee.
Coco Lee's Religious Beliefs
Though Coco Lee was not vocal about her religious beliefs, people assume that she is Christian. In a 2022 Instagram post, she shared several pictures of herself, including tattoos of the words "love" and "faith." "Love & Faith — my two favorite words that I carry strongly in my heart which I desperately needed to get through this incredibly difficult year," she wrote in the caption.
Back to the Celebrity Faith Database