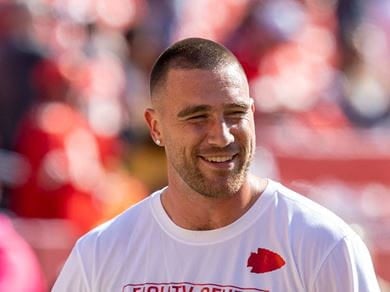 All-Pro Reels / Flickr
Faith:

Christian

Career:

Athlete

Birthday:

October 05, 1989

Accomplishments:

Super Bowl, All-Pro

Fun Fact:

Travis Kelce had his own reality TV show in 2007, a dating show on E! Entertainment Television called "Catching Kelce."
From his days at the University of Cincinnati to his Super Bowl-winning performance with the Kansas City Chiefs, Travis Kelce is one of the most recognizable faces in the NFL. He is often considered to be one of the greatest tight ends of all time.
Travis Kelce's journey to NFL stardom is rooted in his background and family history. Born on October 5, 1989, in Westlake, Ohio, Kelce comes from an athletic family. His father, Ed Kelce, played college football at the University of Cincinnati, while his older brother, Jason Kelce, is a Pro Bowl center for the Philadelphia Eagles. Growing up in a competitive household, Travis developed a love for the game of football at a young age. Kelce attended Cleveland Heights High School, where he excelled both on the gridiron and the basketball court. He went on to play college football at the University of Cincinnati, where he showcased his exceptional talent and versatility. His impressive performance in college caught the attention of NFL scouts, leading to his selection by the Kansas City Chiefs in the third round of the 2013 NFL Draft.
Kelce quickly established himself as one of the top tight ends in the league. In his time with the Kansas City Chiefs, Kelce has achieved numerous career milestones and records. He has been selected to the Pro Bowl six times and has been named First-Team All-Pro three times. Kelce has also been a crucial part of the Chiefs' success, helping lead the team to five consecutive AFC West division titles and two Super Bowl appearances.
But Kelce's impact extends beyond his NFL career accomplishments. Off the field, Kelce's impact is equally significant. He is actively involved in philanthropy work, using his platform to make a difference in the lives of others, hosting charity events and supporting causes close to his heart.
Travis Kelce's dating history and personal life have been the subject of much interest and speculation. From his early days in the NFL to his current status as a superstar athlete, he has been linked to a number of high-profile women. One of the most well-known relationships in Kelce's dating history was with television personality Kayla Nicole. The couple was often seen together at events and on social media, capturing the attention of fans and media alike. However, the pair announced their split in 2020. In 2023, rumors began to surface that Kelce was romantically involved with Taylor Swift.
Travis Kelce's Religious Beliefs
Kelce has been open about his Christian faith and often credits his success to his relationship with God. He believes that his talent is a gift from above and that it is his responsibility to use it for a greater purpose. This mindset has led Kelce to become actively involved in various philanthropy initiatives.
Kelce's philanthropy work focuses on making a difference in the lives of others, particularly children in need. He has partnered with organizations such as Operation Breakthrough and Children's Mercy Hospital to provide resources and support to those facing difficult circumstances. Additionally, Kelce hosts charity events and fundraisers to raise awareness and funds for various causes.
Back to the Celebrity Faith Database