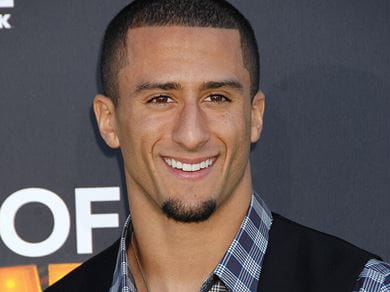 Ga Fuller Shutterstock.com
Faith:

Christian

Career:

Athlete

Birthday:

November 03, 1987

Accomplishments:

Super Bowl, The Super Bowl

Fun Faith Fact!:

Kaepernick was chosen as the face of Nike's "Just Do It" Campaign in 2018 despite being an extremely controversial figure.
Colin Kaepernick was born to a single teenage mother and put up for adoption. He was adopted by Rick and Teresa Kaepernick, a couple who already had two children, Kyle and Devon. Kaepernick began playing football as a child and continued through his high school years. Despite desperately wanting to play football, and turning down several baseball scholarships in order to pursue football, University of Nevada was the only school that offered him a football scholarship. Following graduation, Kaepernick was signed by the San Francisco 49ers. Kaepernick played with the 49ers from 2011 until 2017, when he opted out of his contract to become a free agent.
Kaepernick entered the limelight in 2016 when he began refusing to stand for the national anthem. He claimed that the United States "oppresses black people and people of color...there are bodies in the street and people…getting away with murder." His protest was deeply divisive. Some saw him as a hero, and other athletes joined in the protest. Other people, however, saw his actions as disrespectful to the military and veterans as well as a misuse of the word "oppression" given that in 2016 the war in Syria was in full swing, and there were no less than five ongoing campaigns worldwide that were considered to have reached the level of organized genocide.
After leaving the 49ers, Kaepernick struggled to find another team. He claims that he was blackballed because of his political actions, but others have stated it was due to a combination of slipping performance and the potential public relations nightmare he represented. After he began protesting, the NFL saw a significant drop in television ratings and spectators began either leaving games immediately after players refused to stand for the anthem or ceased attending games entirely. The Baltimore Ravens were reportedly working to extend Kaepernick an offer in 2017, but the offer was withdrawn after his girlfriend compared the team owner to a slave owner in an incendiary tweet.
Back to the Celebrity Faith Database