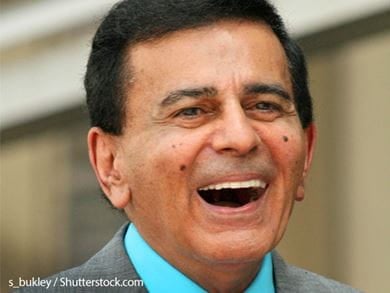 Faith:

Unknown

Career:

Public Figure

Birthday:

April 27, 1932

Fun Fact:

Was hired as the narrator for the series Soap, but left due to the controversial adult themes.
Born in Detroit as Kemal Kasem, Casey Kasem was best known for his legacies as the voice of Shaggy in Scooby-Doo and as the voice of Casey's Top 40, a weekly radio show counting down top music hits.

His career as a radio DJ included a stint in the U.S. Army where he was an announcer on the Armed Forces Radio Korea Network, and went on to work for stations in many major metropolitan areas, including San Francisco, Cleveland, Los Angeles and New York.

Casey received a star on the Hollywood Walk of Fame on his 49th birthday, in 1981. His smooth voice can be heard behind many product television commercials, as well as a number of animated programs.

Casey was a vegan, and a longtime political supporter of more liberal candidates, including Jesse Jackson and Ralph Nader. His daughter, Kerri Kasem, has followed in her father's footsteps and can be heard on national radio programs.
Back to the Celebrity Faith Database