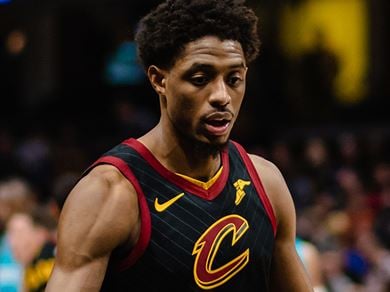 Erik Drost / commons.wikimedia.org
Faith:

Christian

Career:

Athlete

Birthday:

December 02, 1981

Accomplishments:

NBA

Fun Fact:

Knight was raised in the church, attending New Ark Covenant Church in Hialeah, Fl.
Brandon Emmanuel Knight is an American professional basketball player. The Miami native has played for five different teams during his eight-year-long NBA career. This is primarily due to his many injuries that cut some seasons short.
Knight got in the 2011 NBA Draft after only a single season at the University of Kentucky. He was the eighth overall pick selected by the Detroit Pistons. In 2012, he joined the NBA All-Rookie first team but was traded to the Milwaukee Bucks the following year. Finally, he joined the roster for the Phoenix Suns in February 2015.
Being drafted by so many iconic teams was a major win for him, but basketball teams weren't who Knight was seeking favor and approval from. Jesus was and is. Knight has expressed how important his faith is to him and how he would be nowhere without God.
"He is Number One. Without Him, we would not be here. His grace, His mercy is everlasting. He knows we are not perfect, but He was loving enough to love us when we didn't know Him and give us an opportunity. I have been able to say that I know God is real. Everything He has done for me, I will forever be committed to trying to walk that walk," Knight said in an interview.
Knight was raised in the church, attending New Ark Covenant Church in Hialeah, Fl. His parents, Efren and Turgenia Knight are his inspiration in his faith and career journey. Both of his parents were always very involved in church ministry and, as a result, raised Knight believing that faith is the most important part of life.
"I grew up in the church. I gave my life to the Lord when I was young. You have to grow up and understand what that means," the NBS player spoke fondly of his parents. "Growing up with them and leading our household, especially my dad, who is very much into ministry, that is what helped me grow and believe."
To this day, Knight still strives to draw even nearer to God and to maintain a strong relationship that is continually growing.
"I am not perfect, but I strive to improve every day. Make mistakes. We are human. I tell a lot of people when you are a Christian; you are not saying, 'Look, I am better than you.' You are saying, 'I need help.' Christians need help; it's why we give our lives to the Lord so that we can have help to be better." Knight stated.
Back to the Celebrity Faith Database