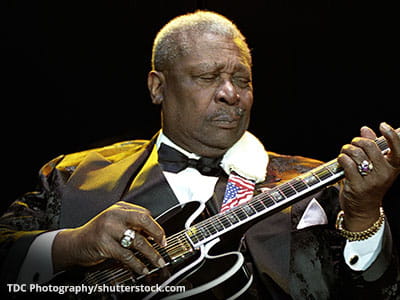 Faith:

Christian

Career:

Musician

Birthday:

September 16, 1925

Accomplishments:

Rock And Roll Hall Of Fame

Fun Faith Fact!:

King was buried in a purple satin shirt and a floral tuxedo with 2 black Gibson guitars.
Riley B. King was an influential American guitarist known as the "King of the Blues." His many accomplishments include a 1987 induction in the Rock and Roll Hall of Fame and being ranked in The Rolling Stones 2011's "100 Greatest Guitarists of All Time."

King was born on a cotton plantation in Mississippi where he started his musical career singing in the gospel choir. In 1949, King signed a contract with Los Angeles based RPM Records and eventually assembled his own band called the B.B. King Review. In 1952 he had his first number one hit on the Billboard Rhythm and Blues chart. A new producer in the 1960's pushed King even further into his musical career by introducing him to rock-blues music. In 2004, he was awarded the Polar music prize, which was given to artists who clearly exemplified achievements in the creation and advancement of music. He continued playing the music he loved all the way until his death in 2015.

His death at the age of 89 was attributed to diabetes, which he lived with for more than 20 years, and was a high profile spokesperson for the fight against the disease.
Back to the Celebrity Faith Database