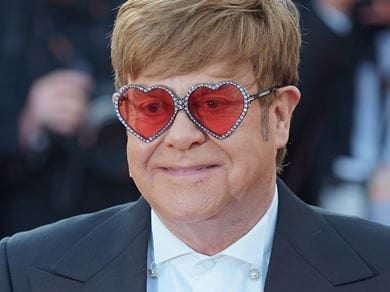 Denis Makarenko / Shutterstock.com
Faith:

Atheist

Career:

Musician

Birthday:

March 25, 1947

Fun Fact:

Elton believes that all organized religions should be banned.
Elton John is a British composer, pianist, and singer. Nicknamed "The Rocketman" after his hit song of the same name, John has been a successful solo artist since the 1970s, releasing 31 albums since 1969. In 1967, John collaborated with lyricist Bernie Taupin, one of the most successful music partnerships in history. John is known for his showmanship and music, which have significantly impacted popular music.
Elton John learned to play the piano early, eventually forming a blues band, Bluesology, which he was a member of until 1967. He released his debut album Empty Sky in 1969. The following year, he established the Elton John Band and released his first hit single, "Your Song," a top ten hit in the United States and the UK. John's musical success continued in the 1980s and 1990s, with several hit singles and albums in both decades.
John has also composed music for the stage adaptation of "The Lion King," "Billy Elliot the Musical," and "Aida." John started his ongoing world tour Farewell Yellow Brick Road, which will conclude in 2023. In 2019, John's life and career hit the big screen with the film "Rocketman." Outside of music, John is a philanthropist, raising millions of dollars for HIV/AIDS. He's received several awards and was knighted by Queen Elizabeth II in 1998.
Is Elton John religious?
Elton John identifies as an atheist. In 2021, he blasted the Catholic Church following the Vatican's decree that priests couldn't bless same-sex marriages because God can't bless sin. The Vatican believes that LGBTQ people should be treated with respect and dignity but maintains that gay sex is intrinsically disordered. In 2007, John told Reuters that all organized religions should be banned because they promote homophobia and turn people into "hateful lemmings."
Back to the Celebrity Faith Database