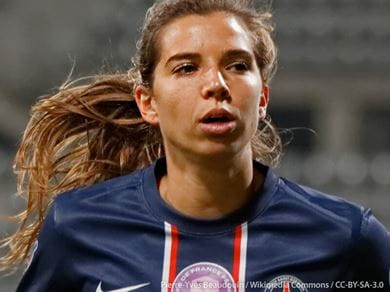 Pierre YvesBeaudouin / Wikimedia.org
Faith:

Christian

Career:

Athlete

Birthday:

May 29, 1988

Accomplishments:

The Olympics, Silver Medalist

Fun Fact:

Heath's family is heavily involved in Christian athletic groups.
New Jersey native Tobin Heath comes from a family that is heavily involved in the Christian faith and athletics. The silver-winning member of the US women's soccer team has always relied on her Christianity, and her family has been heavily involved with groups like Champions for Christ. Tobin told Beliefnet this about her beliefs:
"I was fortunate enough to grow up in a Christian home and an awesome family. Our family was just really passionate about Jesus. I had a great experience growing up. Like many kids, I wanted to do my own thing so it wasn't until around the end of high school and start of college that I started to develop my own faith. I stopped piggy backing off of my family's (faith) and wanted to figure out what it was all about. I got super interested in things and obviously from there it's just grown. Like anyone who has a relationship (with Jesus) knows, the coolest thing about it is that it's infinite how much you can learn and begin to understand. It's something that grabbed me."
Back to the Celebrity Faith Database