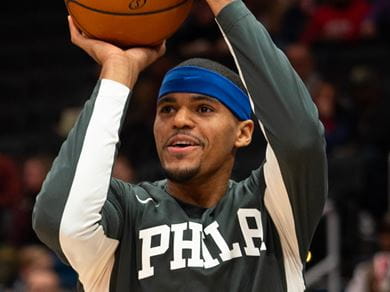 All-Pro Reels / flickr.com
Faith:

Christian

Career:

Athlete

Birthday:

July 15, 1992

Accomplishments:

NBA

Fun Fact:

Tobias Harris took part in Pastor William McDowell's master class of worldwide leaders to live out their Christian faith.
Tobias Harris is an American professional basketball player. The New York native plays as a forward for the Philadelphia 76ers of the National Basketball Association. Harris is known for giving credit and glory to God after each of his career highlights. Harris famously acknowledging God after a very successful game against the Brooklyn Nets in 2019.
"First off, just all glory to God," he told the national TV audience before he went on to explain that prayer and hard work were the reasons for his shooting victories.
"In the NBA, you go through a lot of ups and downs," Harris said in a 2014 interview with Darrell Johnson. "You've just got to continue to trust God's plan."
Harris' displays his exemplary skills on the court as well as his strong faith off the court through his character.
"Any person I meet, I try to embrace them and show them love so that they know I'm a Christian," Harris expressed in 2015 to "Razz and Jazz Sports". "Jesus Christ was a loving man and as Christians, we have to try to enable our lives after Jesus Christ."
Image courtesy of All-Pro Reels / flickr.com
Back to the Celebrity Faith Database