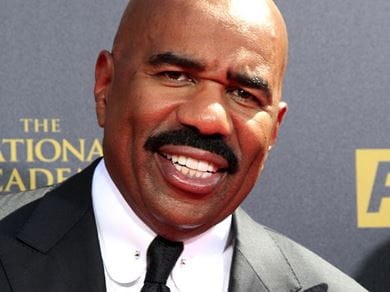 Joe Seer / Shutterstock.com
Faith:

Christian

Career:

Comedian

Birthday:

January 17, 1957

Accomplishments:

Emmy Winner, NAACP Image Awards

Fun Fact:

Harvey shared his testimony of how he was homeless and heard the voice of God at his lowest point.
Steve Harvey is an American talk show host, author, radio host, comedian, actor, and businessman. He is most known for hosting "Family Feud," Celebrity Family Feud, The Steve Harvey Morning Show, and the infamous Miss Universe competition. The fan-favorite host has earned several Emmys and many other awards. He is currently married to Marjorie Elaine Harvey, and together they share seven children.
On "The Steve Harvey Show," he often had Christian guests come to speak about God. Harvey has repeatedly expressed his faith journey and relationship with Jesus.
Harvey's kind mother was a Sunday school teacher. After her unfortunate passing 18 years ago, the famous author often shares the profound influence his mom had on forming his faith. In a touching Mother's Day tribute on his talk show, he revealed that she attended church almost every day of the week. He expressed that she raised him and his siblings to have firm Christian values. In addition to his father's instruction, these principles cultivated his morals to do God's will.
Harvey shared his testimony of how he was homeless and heard the voice of God at his lowest point. "I was so lost, man. I stopped talking to God about my decisions. I was just doing what I wanted to do. When I was homeless and living in the car, God kept tapping me on the shoulder and kept speaking to me, saying: "I'm still with you, man. You ain't paying me no attention, but I'm paying you attention because I got something for you. You're not confiding in me anymore. You're not even talking to me regularly no more, but I still love you." When I turned to find him again, it wasn't hard because he was always there. So in my homelessness, I started going: "OK, God, what do you want me to do?" And he said: "You're doing it. I just want you to talk to me." See, what I learned about Christianity was that God doesn't require you to be perfect. You're not going to be. No one is, but he does require you to be consistent."
Back to the Celebrity Faith Database