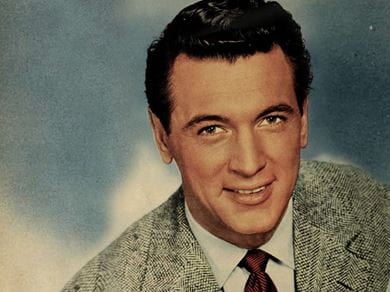 Public Domain
Faith:

Atheist

Career:

Actor

Birthday:

November 17, 1925

Date of Death:

October 02, 1985

Fun Fact:

Shirley and Pat Boone visited Hudson on his deathbed.
Rock Hudson was an actor. One of the most famous stars of his time, Hudson had a movie career spanning over 30 years. He achieved stardom in his role in "Magnificent Obsession" as a prominent heartthrob in the Golden Age of Hollywood, followed by "All That Heaven Allows," and "Giant," which earned him a nomination for the Academy Award for Best Actor. He also found success with a string of romantic comedies co-starring Doris Day, like "Pillow Talk," "Lover Come Back," and "Send Me No Flowers."
During the late 1960s, his film credits included "Seconds," "Tobruk," and "Ice Station Zebra." Hudson turned to TV because he wasn't happy with the film scripts he was offered, and he was a hit, starring in the popular series "McMillian & Wife." His last role was as a guest star on the fifth season of the ABC soap opera "Dynasty," until an AIDS-related illness made it impossible for him to go on. Hudson was born Roy Harold Scherer Jr. in 1925 in Illinois, the only child of Katherine and Roy Harold Scherer Sr.
During the Great Depression, Hudson's father lost his job and left his family. His parents divorced when he was four, and his mother eventually remarried. Hudson attended New Trier High School, and at some point during his teenage years, he worked as a movie theater usher, developing an interest in acting. He tried out for several school plays but failed to win any roles because he couldn't remember his line, a problem that continued through his early acting career. He graduated from high school in 1943 and enlisted in the United States Navy during World War II the following year.
Hudson eventually moved to Los Angeles to live with his biological father and to pursue an acting career. Initially, he worked odd jobs, including as a truck driver. He applied to the University of Southern California's dramatics program but was rejected due to poor grades. After he sent talent scout Henry Wilson a photo of himself in 1947, Wilson took him on as a client and changed his name to Rock Hudson. He was discreet regarding his sexual orientation, but it was known among Hudson's film industry colleagues that he was gay.
In 1984, Hudson was diagnosed with AIDS. The following year, he became one of the first celebrities to share his AIDS diagnosis. On October 2, 1985, Hudson became one of the first celebrities to die from an AIDS-related illness at 59.
Was Rock Hudson religious?
Hudson was raised Roman Catholic but later identified as an atheist. A week before his death, his publicist, Tom Clark, asked a priest to visit. He confessed, received communion, and was administered the last rites. He also received a visit from Pat and Shirley Boone.
Back to the Celebrity Faith Database