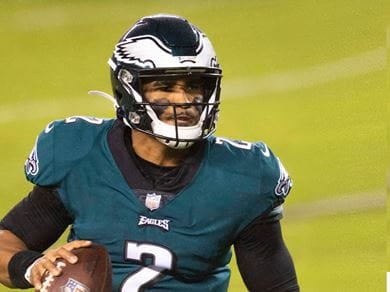 All-Pro Reels / Wikimedia Commons
Faith:

Christian

Career:

Athlete

Birthday:

August 07, 1998

Fun Fact:

Hurts said he found redemption through Christ.
Jalen Hurts is the quarterback for the Philadelphia Eagles. He was a superstar athlete in college, playing at the University of Alabama before transferring to the University of Oklahoma. The Eagles selected Hurts in the second round of the 2020 NFL Draft, and Hurts led the Eagles to the Super Bowl in 2022.
Is Jalen Hurts religious?
Jalen Hurts identifies as a Christian and isn't afraid to share his faith with the world. In a CBS Sports article, Hurts said, "I've just matured and realized that God is everything, and He's worthy of praise. You have to put Him at the center of everything that you do. That's what I believe. All my spiritual wisdom — all of my wisdom as a whole — comes from Him, in some way, shape or form, whether passed down from my father, mother, or grandmother. I just think, in all the things that we experience in life — good, bad or indifferent — you have to keep Him in the center."
Back to the Celebrity Faith Database