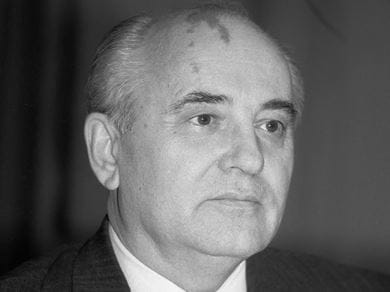 Dmitry L. Medvedev / Shutterstock.com
Faith:

Eastern Orthodox

Career:

Politician

Birthday:

March 02, 1931

Date of Death:

August 30, 2022

Fun Fact:

Gorbachev loosened religious restrictions in the USSR.
Mikhail Gorbachev was the last president of the Soviet Union, he passed away at 91 in a hospital in Moscow. He is most known for his numerous political contributions in Russia. Gorbachev is credited with leading the charge away from a communist state and promoting a Russia that embraced social democracy. He expressed that his greatest political achievements were: political and religious freedom, end of totalitarianism, introduction of democracy and a marking economy, and an end to the arms race and Cold War. Gorbachev visited Ronald Regan at Rancho del Cielo in 1992 and attended Reagan's funeral as well.
What religion did Mikhail Gorbachev practice?
Gorbachev was a Russian Orthodox. He was baptized into the church as a child and his grandparents were also Christian. During his childhood it was still discouraged to be Christian, he had to lie about his beliefs at times to protect his private life. He claimed he was an atheist and an "intellectual" at times to avoid scrutiny. Due to his beliefs, he abstained from smoking and drinking and enjoyed reading books, particularly fiction novels. Activities not shared with many in his socio-economic and political circles.
Back to the Celebrity Faith Database