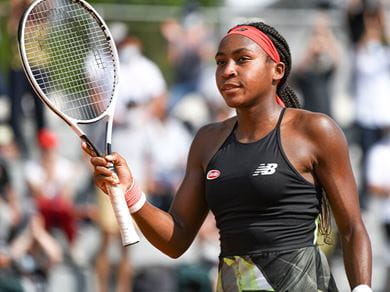 Victor Joly/Shutterstock.com
Faith:

Christian

Career:

Athlete

Birthday:

March 12, 2004

Accomplishments:

women's tennis, Professional Tennis

Fun Fact:

Coco Gauff is the youngest American to win the US Open since Serena Williams in 1999.
Is Coco Gauff Religious?
Yes, Coco Gauff is religious and worships at the Saint John Missionary Baptist Church in Florida. It is reported that her church has prayed for her recent tennis matches including the one against Venus Williams. As part of her devotion to God she sings in the choir as well. Gauff, as reported in the The New York Times, knelt and prayed as part of her emotional reaction to winning her match against Williams. Her family also are devoted Christians and pray often for her success as a professional tennis player.
Fun Facts About Coco Gauff
Coco has achieved amazing things in her life. Here is a list of accomplishments:
- Won her first First Grand Slam Title at the 2023 US Open at the age of 19
- Youngest Roland-Garros finalist since Kim Clijsters in 2001
- Youngest Grand Slam finalist since Maria Sharapova in 2004
- Won her first WTA Tour singles title at the 2019 Linz Open aged 15
- Was homeschooled by her parents
- Won the United States Tennis Association Clay Court National 12-under title in 2014
- Played basketball and ran track in her youth
Coco Gauff has impressed the tennis world and many are excited to watch her career as she continues to compete.
Back to the Celebrity Faith Database