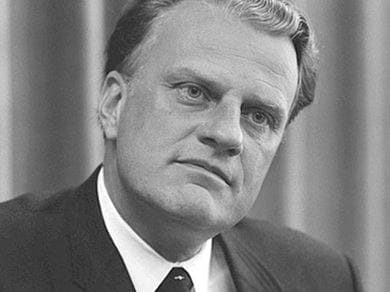 US News World Report
Faith:

Christian

Career:

Public Figure

Birthday:

November 07, 1918

Date of Death:

February 21, 2018

Fun Fact:

Graham was a spiritual adviser to American presidents and provided spiritual counsel for every president from Harry Truman to Barack Obama.
William Franklin Graham Jr., known as Billy Graham, was an American evangelical Christian evangelist, an ordained Southern Baptist minister, who became well known internationally after 1949. He was widely regarded as the most influential preacher of the 20th century. He held large indoor and outdoor rallies; sermons were broadcast on radio and television, some still being re-broadcast into the 21st century. In his six decades of television, Graham was principally known for hosting the annual Billy Graham Crusades, which he began in 1947, until he concluded in 2005, at the time of his retirement. He also hosted the popular radio show Hour of Decision from 1950 to 1954. He repudiated segregation and, in addition to his religious aims, helped shape the worldview of a huge number of people coming from different backgrounds leading them to find a relationship between the Bible and contemporary secular viewpoints. Graham preached to live audiences of nearly 215 million people in more than 185 countries and territories through various meetings, including BMS World Mission and Global Mission. He also reached hundreds of millions more through television, video, film, and webcasts. He died on 2/21/2018.
Back to the Celebrity Faith Database